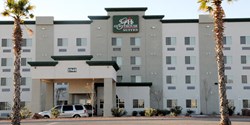 "We are focused at creating more innovative parking opportunities..."
El Paso, TX (PRWEB) October 31, 2013
Greenbee Parking, a young airport parking service company, just announced that Guesthouse Suites will be their new business partner in El Paso. With this strategic partnership in place, they can now offer secure and hassle free airport parking for all travelers using the El Paso (ELP) airport. This is especially a bonus for those frequent travelers who use the airport regularly and prefer to park in leisure instead of battling peak hour traffic. Now they can simply book ahead and get a secure spot for their cars at the Guesthouse Suites parking lot for discounted El Paso airport parking rates (http://www.greenbeeparking.com/TEXAS/ELP). There is no need to book a room to park here as Greenbee Parking customers are more than welcome to park any time they have a booking. Once they have done so they can simply hop on to one of the 24-hour shuttles which constantly travel from here to the airport. There is ease of use, comfort travel, great savings and great customer service all combined in one Greenbee experience.
"We are focused at creating more innovative parking opportunities, like our partnership with Guesthouse Suites, so that our customers can have multiple options at affordable El Paso airport parking rates," said Christine Cooper – Marketing Coordinator, Greenbee Parking. "This way we can serve them better and come up with more options not just for long term customers but for others as well."
El Paso International Airport Parking Information
El Paso International Airport is a busy southern airport which sees lot of leisure travel round the year, not a surprising fact since the area is known for its rugged scenic beauty and year round great weather. It is also strategically located close to Interstate 10 and downtown El Paso, just northeast in fact which makes it convenient for the business travelers as well. For a mid-sized airport it sees a lot of activities in terms of cargo as well as passenger and general aviation services. It has served a total number of 300,000 commercial passengers in 2010 and close to the same figure in 2012. In terms of aircraft operations the figure rose to 95,015 while in terms of cargo tonnage it was 94,524 in 2012. The airport acts a gateway to western and parts of southern Texas, parts of New Mexico as well as Northern Mexico. These figures easily show that the busy airport is accompanied by very busy ground traffic as well. Though there are public transportation options available like the Sun Metro buses, most people still prefer to get their own cars and park them at the airport.
Now they have additional options for parking with Greenbee Parking. They along with their partners Guesthouse Suites have come up with innovative and easy options at very reasonable El Paso airport parking rates.
The Greenbee Airport Parking Solution
Greenbeeparking.com is the connection between consumers and parking vacancies in close proximity to major airports and seaports. The parking spaces are very affordable because the company has negotiated discounted rates with major hotel chains for the parking spaces that are not currently occupied. Here's how it works.
Greenbee Parking puts the available inventory of parking spaces on their website to be reserved by business and leisure travelers looking for cheap airport parking. This alternative method for finding parking equates to significant savings for the traveler. You can learn more about their offers from (http://www.youtube.com/watch?v=WWLybHNYjYQ) or via the web at (http://www.greenbeeparking.com).
About Greenbee Parking
Greenbee Parking is the nation's most innovative long term parking company, with a new way of making long term parking affordable. The company is rapidly adding new airports to its network.