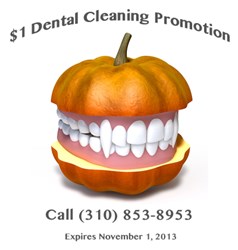 We are haunting our own finances so you can have your teeth cleaned after Halloween for only a buck!
Los Angeles, CA (PRWEB) October 25, 2013
Healthy Smiles Premier Dental is getting into the Halloween spirit with a $1 dental cleaning deal, to provide relief for teeth, post-Halloween.
Located on Hawthorne Boulevard, Healthy Smiles Premier Dental has been serving the South Bay of Los Angeles for nearly a decade. "We are serious about the negative effects candy can have on teeth, and hope this promotion helps maintain healthy smiles," say Dr. Afshin Doostan.
Dr. Afshin Doostan, a graduate of USC School of Dentistry, sees this promotion as a healthy and fun way to give back to the Los Angeles community, especially the South Bay areas of Lawndale, Torrance and Hawthorne. In addition to general dentistry, Healthy Smiles Premier Dental provides cosmetic dentistry services, including teeth whitening, dental implants and veneers.
These dental cleanings will ensure that patients will maintain healthy teeth and avoid the cavities and tartar that result from excessive consumption of sugary sweets.
In a nutshell, all new patients who call (310) 853-8953 by November 1, 2013 will be eligible to schedule a $1 dental exam, x-ray and cleaning appointment for November 3, 4, 5 or 6.
This offer is subject to appointment availability, does not include periodontal treatment and slots will fill up fast, so call today.