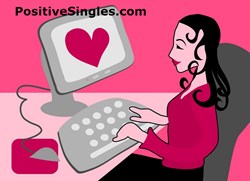 Los Angeles California (PRWEB) October 31, 2013
According to a survey conducted by PositiveSingles.com, STD infected people usually look for three kinds of relationships. The top one is dating. Report reveals that 16.07 percent users visit the site in order to look for someone to date. 16 percent of the total males and 16.39 percent of total females on the site want to date.
Experts of the field confirm that dating is the first step of entering into a serious relationship. However,it is pretty tough for people who are affected with an STD to date someone.
Long-term or serious relationship comes the second in the list. Report confirms that 15.43 percent of members look for a long long-term relationship on the site. 15.96 percent of the total female members and 15.23 percent of the male members hope to find a long term partner.
The reason behind the same: love is not easy to find for those with STD. STD infected people live alone for most parts of their life. Finding a partner for them is a little more difficult. In comparison of other non-STD people, STD infected people are honest and do not hide their disease, which shows their sincere and serious attitude of love.
Friendship relations take the number three spot. According to the survey, 15.26 percent users visit the site to search people for friendship. 16.07 percent females and 14.89 percent men wish to make a lot of new friends on the site.
PositiveSingles.com, an online dating site is helping those suffering from STD to get rid of their loneliness. Those infected wish to make new friends to talk, share and date. Their conditions are better understood by the people going through the same situation. Some of the members on PositiveSingles.com call each other brothers and sisters, which makes them different from people on other non-STD dating site.
Report also reveals that just 12.83 percent of members have plans to marry someone in the future. Jeffery Z, the marketing manager of PositiveSingles.com spoke about the relevant topic, "Marriage is a sensitive topic for STD infected people. Once they have given up the hope of finding someone, it is hard to marry with somebody again. They need time"