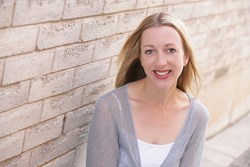 We recognize Julie's business success in the creation and growth of Mabel's Labels... And we celebrate how it started: Julie was a mom, first!
Chicago, IL (PRWEB) October 25, 2013
Julie Cole, Co-Founder of Mabel's Labels, a company that helps families get and stay more organized with durable and personalized label products, was presented with the "MomFirst Award" at the 9th Annual M2Moms® – The Marketing to Moms Conference, Oct. 23 & 24, 2013, Chicago. "The Award is given annually to a woman who started something new when, in her own role as a Mother, she saw a need and filled it... first as a Mom at home, and then in the marketplace," stated Nan McCann, M2Moms® producer.
"We recognize Julie's business success in the creation and growth of Mabel's Labels, the leading provider of labels for the stuff kids lose. And we celebrate how it started: Julie was a mom, first!" McCann, explained. "Julie is a mother of six and after her eldest son was diagnosed with autism, she shelved a legal career to monitor his therapy and launch a business that would strike a better work/life balance. Mabel's Labels has since grown from basement start-up into an award-winning, celebrity-loved phenomenon."
"Julie and Mabel's Labels have been featured on The View, Today, The Early Show, Rachael Ray, LIVE! with Regis and Kelly, People.com, Forbes.com, and in Parents, In Style, Maclean's, The Globe and Mail, The Toronto Star, The Washington Post, Huffington Post, and countless other media outlets," McCann said. "Mabel's Labels was named to Inc.com's list of 20 Awesome Facebook Fan Pages and Hubspot's The 15 Best Facebook Pages You've Ever Seen."
"As company spokesperson, Julie is well known among North American mom entrepreneurs. Her dynamic personality makes her an in-demand speaker everywhere from university business classes to TV and radio shows, including a regular spot as parenting expert on HLN's Raising America (Atlanta) and CH Morning Live. In addition to interviews and articles in major print publications, she is a syndicated blogger whose writing has also appeared in Chicken Soup for the Soul - Power Moms and numerous websites," McCann added.
"M2Moms® is dedicated to helping marketers improve their marketing efforts to today's ever evolving moms. Mom is the modern family's most important decision maker in virtually every consumer industry and product category. It is precisely because of moms' purchasing power that M2Moms® draws attendance from a truly diverse and comprehensive list of brands," McCann explained, "Including Microsoft, Kellogg's, Evenflo, IKEA, Mead Johnson, GM, Allstate, Heinz, Symantec, Hasbro, BBC, NBA, Procter & Gamble, Wyeth and Coca-Cola. They all recognize that marketing to moms is critical to continued brand growth and market share."
M2Moms® sponsors include Title Sponsor: Sprout; Associate Sponsors: GfK, Mom Central Consulting, House Party, Ketchum, Destination Maternity, WebMD, MtoM Consulting, Tap Influence, Yahoo!, Mabel's Labels, WhatToExpect.com, Meredith Parents Network, Conill, FleishmanHillard, The Motherhood, Mattel; Showcase Sponsors: GGP, School Family Media, Kids & Company, The Education Center, Sachi, Moms Meet, PMP, Teen Life, Sports Illustrated Kids and Time for Kids; Workshop Sponsors: The Marketing Store Worldwide, The Bump, Child's Play Communications, Eric Mower+Associates, Robin Leedy & Associates, Sway Group, PTPA Media, Experian, Blissful Media Group; Video Content Resource: Snippies; News Resource: M2Moms® News. M2Moms® 2013 proudly supports Text4baby.
For M2Moms® information: http://www.m2moms.com or 860.724.2649 x11. M2Moms,m is produced by PME® Enterprises LLC, 912 Silas Deane Hwy., Suite 101, Wethersfield, CT 06109.