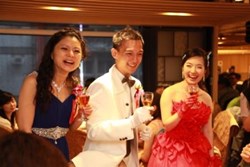 There are only 2 ways a dating relationship will end up: marriage or breakup. So if you engage in long term dating and there is no marriage in place, the next 'natural result' is a breakup.
Los Angeles, CA (PRWEB) October 24, 2013
Thomas was a top insurance agent who had always made great income with his sales job. Ever since he was in his 20s, he had wanted to settle down with the woman of his dreams and have children.
However, fate would have it that in the span of 10 years, he ended up having only girlfriends but never a committed partner. All in all, he had 3 different partners, with each relationship lasting about 3 years before breaking up. A decade went by and he still had no wife, no children, and no family, despite wanting it from the very beginning.
Bestselling author and unorthodox matchmaker Hellen Chen talks about how common this situation has become for singles, "I call this 'taking care of someone else's spouse.'"
Chen talks about how some guys or ladies would date for a number of years and yet would never pull the trigger for marriage. In the end, they would break up with their dating partner and their dating partner would end up marrying someone else.
"There are only 2 ways a dating relationship could end up: marriage or breakup. So if you engage in long-term dating and there is no marriage in place, then it is inevitable a breakup will eventually happen," said Chen.
Last year, Chen's book on her matchmaking experiences and how she has helped countless singles and couples to overcome problems in their relationships became a top bestseller on Barnes and Noble.
On Wednesday, October 30th on BarnesAndNoble.com, Chen will release a brand new book titled "Hellen Chen's Love Seminar."
This book, cited as "the missing manual that will make relationships last," gives advice to singles on how to find the right partner and how not to end up taking care of someone else's spouse.
The book also reveals the biggest mistakes women and men make in their relationships and the common marriage problems that are making relationships fail and how to avoid them.
Having developed the reputation of assisting those who have the least chance to find a right match to actually tie the knot, the unorthodox matchmaker said, "I get approached by individuals who are in their late 30s and 40s and even 50s. They are stable in their career. But they could not find a suitable match and many of them would like to have children," said Chen. "That is why I wrote this book--because there are simply too many questions about how to find the right person."
In an interview from Los Angeles, Chen talked about timing and age, "You cannot be 20 or 30 twice. Timing plays a big role in forming a family. Putting families on the back burner tend to let it be forgotten. We cannot turn back the clock in lost time."
Some singles have the notion that it is better to wait to have more money before embarking onto marriage. Chen explained, "People think that having no money means they should not marry. But family math is different. One plus one is always more than two. When you marry and then work together and produce together, you can create more economic stability and growth."
"The power of love is great," Chen continued, "If hardworking individuals can spend part of their time to take care of love matters like marriage, they will do much better in all aspects of life -- career, personal development, and having a family future to look forward to."
What about the story of Thomas? Did he ever fulfill his marriage goal?
Thomas met Chen 2 years ago and learned the right way of finding a partner from the matchmaker; he got married shortly after and is now the happy father of a baby boy with a second one on its way.
To learn more about Chen's new book, visit http://matchmakerofthecentury.com/books/hellen-chens-love-seminar-book/