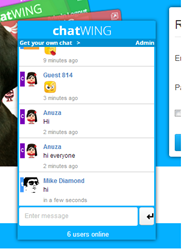 Boston, MA (PRWEB) October 24, 2013
After launching the humor chat network, Chatwing chat software developers have noted a steady spike in overall usage of the chat rooms. To make things interesting for web users, Chatwing is planning to launch a small online contest in the humor chat network. Web users must submit their best jokes in the humor network, coupled with pictures and funny videos.
Everyone is allowed to post the jokes and funny pictures in the humor chat network. According to Chatwing's event coordinators, the contest will run for two weeks and the winners will receive a bundle of Chatwing virtual coins. For starters, Chatwing chat app coins can be used to purchase Premium Services, such as custom sidebar, social sharing removal, Chatwing logo removal, and Secure Socket Layer (SSL).
"This can also be an opportunity for bloggers who are under the humor niche. They might see one video or picture that they can repost in their own blogs. We are also expecting the arrival of cute animal videos, such as cats, dogs, and other furry creatures. However, we will only select those that are humorous enough," Ivan Diamond said. He is one of the event coordinators for Chatwing.com.
The rules of the coming humor contest will be posted in Chatwing's chatroom Facebook page and Twitter account. Chatwing ensures its users that there will be more contests for the coming years.
About Chatwing.com
Chatwing.com specializes in the new field of website chat software. Over years, the Chatwing team has introduced live chat widget for hundreds and thousands of blogs. The Chatwing application bridges people from many parts of the world, creating global synergy through the Internet. The shout box can be installed in just seconds, and it can be used for varying purposes such as leisure and Internet marketing. It also allows a user to customize the size, color, and name of the widget.