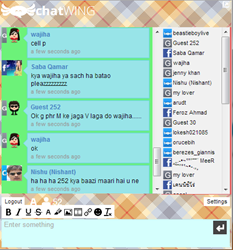 San Diego, CA (PRWEB) October 25, 2013
After launching the newest version of the Chatwing chat software, the company has added another feature: social sharing. With this feature, users and visitors will be able to share their chat room conversations to their friends and clients. Chatwing developers see this as another useful online marketing strategy.
The social sharing option has been in the Chatwing chat software springboard for over a month now. In this springboard, dozens of features are being conceptualized and the developers are hoping that people will be able to use them before the year ends. However, the Chatwing Team needs to prepare the platform for these changes.
Users have the option to deactivate the social sharing option. To do this, they can purchase Chatwing Coins. These coins can be used to buy Premium Services. These services are continuous, consuming 1 coin per month, and they can be deactivated at will.
Chatwing researchers are now active—round the clock—in determining the users' reaction about the social sharing option. The researchers and administrators of Chatwing's chat app are always ready in case users have questions and opinions.
About Chatwing.com
Chatwing.com specializes in the new field of website chat software. Over years, the Chatwing team has introduced live chat widget for hundreds and thousands of blogs. The Chatwing application bridges people from many parts of the world, creating global synergy through the Internet. The shout box can be installed in just seconds, and it can be used for varying purposes such as leisure and Internet marketing. It also allows a user to customize the size, color, and name of the widget.