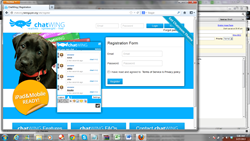 Los Angeles, CA (PRWEB) October 28, 2013
The newest version of the Chatwing chat software has recently been introduced in different online portals, forums, and communities. In its first run, Chatwing's developers and administrators have started highlighting the importance of the Facebook sharing feature. The important points of the Facebook sharing option are the following:

Added exposure. Now, chatroom owners can share their important messages and conversations to their friends in Facebook. This simply means that the chatroom will have an increased rate of exposure. More visitors can now join the chatroom, allowing the website owner to create large subscriber groups.
Surveying opportunities. A shared chat app has the potential of greater traffic rate, and this presents an opportunity for product makers to have their products surveyed in Facebook. The clients can share their insights, suggestions, and opinions.
Better Facebook connectivity. Based on standard research, a website owner who has a Facebook page will gain more followers in few days or weeks; this, however, depends on the persistence of the campaign. Through Chatwing's Facebook sharing advantage, greater connection is ensured in the long run.
Chatwing.com is now adding more social media sharing features to the chat software. In this way, web users can gain high-rate connectivity advantage that can help reach certain online goals.
About Chatwing.com
Chatwing.com specializes in the new field of website chat software. Over years, the Chatwing team has introduced live chat widget for hundreds and thousands of blogs. The Chatwing application bridges people from many parts of the world, creating global synergy through the Internet. The shout box can be installed in just seconds, and it can be used for varying purposes such as leisure and Internet marketing. It also allows a user to customize the size, color, and name of the widget.