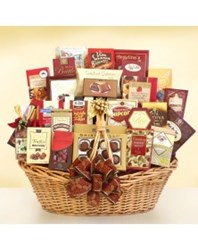 The company did realize that corporate people were giving each other food gifts during thanksgiving.
Monroe, NY (PRWEB) November 19, 2013
In a unique move that Print EZ has made this year, a line of thanksgiving food gift options have been launched for the corporate world. The food gifts have been created keeping in mind the specific needs of a corporate person while gifting to another executive.
While one does not associate office gifts with thanksgiving, the company feels differently. Addressing the people during the launch, Morris Rose, CEO for online company Print EZ stated, "Despite the fact that thanksgiving is thought to be a family holiday, there is no reason why colleagues cannot share the joy with office friends. Thanksgiving is a holiday that everyone enjoys and it is also the start of the holiday season when everyone is having fun. There is no better time to give a thanksgiving food basket when people are having a good time with the family."
Given that this is a general holiday time also, there seems to be no issue with regards to creating thanksgiving gifts especially for corporate people as well. The thought process of this unique move was explained further by the Print EZ marketing manager, "The company did realize that corporate people were giving each other food gifts during thanksgiving. It was a manner in which people wished each other and sent across food gifts to clients and colleagues. Some even said that it was a good time to impress the better half of the client by sending across gourmet food gift items. When an executive takes home a thanksgiving food basket from office, it is a way of sharing what one experiences in office at home. Children get excited about the goodies and the whole food gift is appreciated much more."
The range of thanksgiving food gift options includes a variety of baskets. Included in the collection are fruit baskets that are apt for those who are health conscious and want to limit gourmet food consumption in the holiday season. Apt for many office colleagues are inexpensive chocolate boxes that can be purchased with as less as $20.
At the other end of the spectrum are exquisite wine gifts that customers can send potential clients. Some of the best wine produce from California has been selected and paired with gourmet cheese, olives and many other food products too.
Special care has been taken to make sure that corporate gifts mean much more than just gift boxes. There is a provision for corporate messages, logos and personalized wishes to be added on the ribbon used in the thanksgiving food gift basket. It makes for a great way to promote the company to prospective clients as well.
Print EZ officials are sure that this offering is based on a meaningful and relevant insight and that it shall be a hugely successful one. Results of this unique and interesting offer are awaited!
Get more information about how Print EZ offers and new launches on Food Gifts Baskets at http://www.printez.com/food-gifts.html or call the company at 1-888-246-0635.
To read more about gift-baskets, click here: http://www.printez.com/gift-baskets.html.
Print EZ
4 N Main St.
Monroe, NY 10950
(845) 782-5832