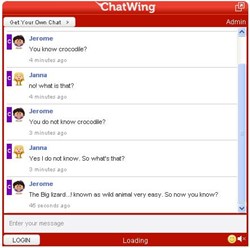 Miami, FL (PRWEB) October 29, 2013
Private group chatters can now rely on the advanced chatroom app released by Chatwing.com. In this updated chat app, website owners can rely on different features such as social sharing, live control panel, faster Facebook and Twitter login methods, premium services, and more chat networks for greater connectivity. There are also numerous security options for private chatting.
"Security has always been a topic in the Chatwing springboard," Says Ivan Diamond—one of Chatwing's developers. "In every chatroom, there is always a chance that obnoxious users can disrupt conversations at their whim. So we made our move. For Chatwing 3.0, registered users will get more security advantages for private chats. They can add as many word filters as they want. The ban times are also indefinite and users can ban offenders through their Facebook accounts."
Private group chatting can be done by using Chatwing chat app shortlinks. Through these shortlinks, chatroom owners can create custom user names and send the links to their friends and peers. Chatwing developers have observed that the shortlink advantage is popular with student bloggers and concentrated study groups.
One of Chatwing's premium features is Secure Socket Layer (SSL). By purchasing virtual coins, users can avail this service as often as they want. More information about premium advantages are available in Chatwing's website.
About Chatwing.com
Chatwing.com specializes in the new field of website chat software. Over the years, the Chatwing team has introduced live chat widget for hundreds and thousands of blogs. The Chatwing application bridges people from many parts of the world, creating global synergy through the Internet. The shout box can be installed in just seconds, and it can be used for varying purposes such as leisure and Internet marketing. It also allows a user to customize the size, color, and name of the widget.