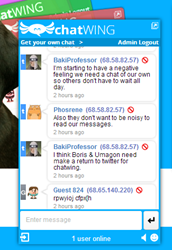 Boston, MA (PRWEB) October 31, 2013
Chatwing Development Team is now starting to monitor the flow of dating and romance tips in the chat rooms. Based on the research done by developers, online dating has become a common thing in the cyberspace and people are always looking for dates. Here are some of the common tips shared in the Chatwing chat app chatrooms:

It pays to know. Knowledge is an important thing in the cyberspace. Chatwing Team has noticed that people with 'knowledge' have more potential in landing dates compared to those who are only interested in limited stuff. One theory is that knowledgeable people can cover various niches, thus catching the interest of the opposite sex.
Social media advantage. In every Chatwing chatroom, visitors are allowed to log in with their Facebook or Twitter accounts. This is called social media integration. Once logged in, visitors can send invitations to each other. Now, the dating process can be continued to social networks.
The effect of humor. Chatwing visitors have been sharing the fact that humor can still win a girl's heart. Apparently, this is true—based on global dating standards. Humor in the cyberspace is good, but humor in personal date is even better.
Website owners that are into the online dating niche are advised to use the Chatwing chat software for better exposure. For more information, website owners can visit Chatwing's Facebook page and Twitter account.
About Chatwing.com
Chatwing.com specializes in the new field of website chat software. Over years, the Chatwing team has introduced live chat widget for hundreds and thousands of blogs. The Chatwing application bridges people from many parts of the world, creating global synergy through the Internet. The shout box can be installed in just seconds, and it can be used for varying purposes such as leisure and Internet marketing. It also allows a user to customize the size, color, and name of the widget.