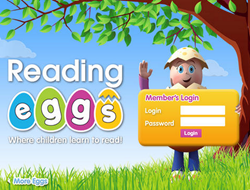 Reading Eggs is now available on the iPad to complement your online subscription
San Francisco, CA (PRWEB) October 24, 2013
Reading Eggs, the online program for 3–13 year olds, is available to download as an app from iTunes. Children can now learn to read on the go with the Reading Eggs app compatible on iPad 2, iPad 3, iPad 4 and iPad mini with an operating system of IOS 6.0 or later.
The Reading Eggs App for iPad adds a new hands-on dimension to the program, where children complete lessons and activities using the intuitive 'tap' and 'touch and drag' interactivity of the iPad. The app includes all 120 one-on-one reading lessons from the original version, plus many other great features, including the Arcade, Reggie's Store, and a range of rewards.
The Reading Eggs App is available as a free download from iTunes. To use the app, a trial or subscription to Reading Eggs is required, as well as a wireless internet connection. Reading Eggs also continues to be accessible on the iPad through Google Chrome or Safari.
Launched in 2008, Reading Eggs provides a comprehensive range of online reading lessons and ebooks that teach children ages 3–13 the literacy skills needed for lifetime reading success. Children progress through the one-on-one lessons at their own pace and parents can track their learning with regular progress reports and assessments.
There are also a range of Reading Eggs educational apps available for both iPad and Android devices. Mathseeds, the online math program for 3–6 year olds from the creators of Reading Eggs, is also available for use on the iPad and Android phones.
Reading Eggs will be available for Android late 2013.
Download the Reading Eggs app from iTunes.
Sign up for a FREE trial of Reading Eggs today at http://www.readingeggs.com.
About Reading Eggs
Developed by educators with over 25 years of experience, Reading Eggs online lessons instruct children in the five areas crucial to literacy development – phonemic awareness, phonics, vocabulary, fluency and comprehension. Reading Eggs focuses on a core reading curriculum of skills and strategies essential for sustained reading success and is suitable for children ages 3 through 13. Since launching in the United States and Canada in 2011, Reading Eggs has signed on more than 500,000 subscribers and presented more than 15 million lessons in North America.