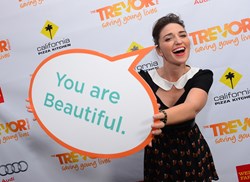 Our dynamic honorees serve to teach the greater community about what it means to break boundaries and stereotypes to benefit LGBTQ youth everywhere.
West Hollywood, CA (PRWEB) October 24, 2013
On Sunday, December 8, 2013, The Trevor Project will hold its annual benefit event, TrevorLIVE Los Angeles (TrevorLIVE LA) presented by Audi of America and Wells Fargo. The high-profile evening of music, comedy and entertainment aims to raise awareness about suicide prevention among LGBTQ (lesbian, gay, bisexual, transgender and questioning) young people. The event will include the presentation of the Trevor Youth Innovator Award to Adam White, a senior at Brigham Young University, and the Trevor 20/20 Visionary Award to Toyota. The Chair for the event is Ken Campbell. Tickets to TrevorLIVE LA may be purchased at: TheTrevorProject.org/TrevorLIVELA.
"The Trevor 20/20 Visionary Award honors Toyota for all the support they've given to the LGBTQ community, specifically for the work they've done with youth outreach," said Abbe Land, Executive Director and CEO of The Trevor Project. "Adam is an example of this support and a bona fide Trevor Youth Innovator, who works through his faith to ensure other LGBTQ Mormons find safety, community and acceptance. Our dynamic honorees serve to teach the greater community about what it means to break boundaries and stereotypes to benefit LGBTQ youth everywhere."
As The Trevor Project strives to make schools and communities safer for LGBTQ youth, Adam White is an exemplary honoree for this initiative. The Trevor Youth Innovator Award honors a young LGBT, straight or questioning person under the age of 25 who strives to support, inspire and empower LGBT youth to reach for their dreams. Dedicated, creative and intensely positive about the future, Adam is also part of Trevor's Youth Advisory Committee.
The Trevor 20/20 Visionary Award is presented to a corporation that publicly supports the LGBT community and works to advance an empowering future-focused message for LGBT young people and their allies nationwide. Toyota's deep commitment to diversity and inclusion is part of their mission to ensure employees, at all levels of the organization, represent the many faces of America. Toyota was one of the first auto companies to provide truly comprehensive domestic partnership benefits starting in January 2002 and has since been recognized by several organizations for its diversity and inclusion efforts. For example, Toyota has scored 100% for the past five years on the HRC (Human Rights Campaign) Corporate Equality Index and is rated as one of the "Best Places to Work for LGBT Equality." Toyota believes an auto company can also be a vehicle for change.
"Toyota is incredibly proud of the partnership we have built with The Trevor Project and we take particular pride in our support of the Trevor Youth Advisory Committee," said Mike Groff, President and CEO of Toyota Financial Services. "Our commitment to supporting the LGBT community is part of Toyota's core belief in the value of promoting diversity in every area of our business. We are incredibly honored to be recognized by The Trevor Project and to be part of such a meaningful evening." Groff will be accepting the 20/20 Visionary Award for Toyota at the event.
TrevorLIVE LA presented by Audi of America and Wells Fargo is a signature semi-annual event of The Trevor Project, bringing together top entertainers and corporate leaders to support the organization's life-saving, life-affirming work for LGBTQ youth in crisis. This high-profile event has honored note-worthy supporters including Cindy McCain, Katy Perry, Susan Sarandon, Lady Gaga, Daniel Radcliffe, Kathy Griffin, Neil Patrick Harris, Vanessa Williams, Dustin Lance Black, Alan Cumming and more for their support of LGBTQ youth.
About The Trevor Project:
The Trevor Project is the leading national organization providing crisis intervention and suicide prevention services to lesbian, gay, bisexual, transgender and questioning young people under 25. Every day, The Trevor Project saves young lives through its free and confidential lifeline and instant messaging services, in-school workshops, educational materials, online resources and advocacy. Honored by the White House as a Champion of Change, The Trevor Project is a leader and innovator in suicide prevention. Learn more at TheTrevorProject.org.
About Toyota Diversity:
To help unify the diversity efforts of all Toyota U.S. affiliates and to formalize objectives, Toyota created the Toyota 21st Century Diversity Strategy in 2001. The multi-billion dollar strategic investment encompasses human resources, procurement, minority advertising, dealership development, community support and strategic oversight. As a result, Toyota has made strong progress, including more than doubling its annual spending with diverse suppliers, increasing the number of ethnic minority and women owned dealerships and increasing their philanthropic giving to organizations that serve diverse populations. In addition, people of color now represent nearly 30 percent of Toyota's U.S. employment.