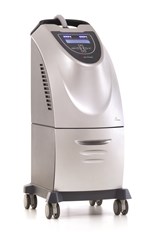 Including Reaction™ by Viora into MyLooks® clinic filled a need we were seeing from patients who were not interested in a surgical solution for skin tightening or contouring
Jersey City, NJ (PRWEB) October 24, 2013
Viora is proud to announce that Dr. Lawrence Korpeck, a renowned and respected plastic surgeon, has introduced Reaction™ to his MyLooks® clinic. Reaction™ is a leading non-invasive, pain-free solution for non-invasive tightening, cellulite reduction and contouring, with no downtime.
Dr. Korpeck's patients have enthusiastically embraced Reaction™ and are seeing excellent results from their non-invasive tightening, contouring and cellulite treatments, with skin tightening on the face and neck, as well as cellulite reduction on the thighs being the most requested treatment. The proprietary CORE™ technology integrated in the Reaction™ device offers three distinct RF frequencies as well as an innovative 4th multi-channel mode - that simultaneously incorporates all three frequencies for a full scope treatment. This advancement ensures client safety, comfort, and efficiency, as well as faster treatment times, all of which Dr. Korpeck's clients greatly appreciate.
"For a long time I tried several alternatives to combat cellulite but nothing worked. But I started this treatment with Teresa at MyLooks® a month ago and the results have been fantastic. Not only has Reaction reduced cellulite but I have also lost 3 inches on my legs. This treatment really works," Gloria, MyLooks® patient.
"Including Reaction™ by Viora into MyLooks® clinic filled a need we were seeing from patients who were not interested in a surgical solution for skin tightening or contouring," said Dr. Lawrence Korpeck, plastic surgeon, MyLooks®. "The Reaction™ device from Viora enables us to provide these services to our patients, giving them an effective, safe and painless solution. Our clients have been very satisfied with the results that they have been receiving and our aestheticians have also been extremely pleased with the outcomes they have achieved."
"Viora is excited to be working with Dr. Korpeck, a respected leader in the cosmetic surgery field. By offering his patients an effective, non-invasive solution for cellulite reduction, tightening and contouring, Dr. Korpeck is providing a unique treatment to his patients," said Eliran Almog, CEO of Viora Inc. "We look forward to having Dr. Korpeck and MyLooks® clinic as a longstanding member of the Viora family and working closely with him and his staff to provide his patients with the best non-invasive care solutions available."
About MyLooks®
Florida-based MyLooks® is a leading cosmetic and surgical service provider dedicated to helping women and men achieve their personal aesthetic goals. Each MyLooks® clinic provides a high-quality total experience, including Board Certified surgeons, procedure customization, a safe and clean environment, patient financing, and complimentary consultations. More information is available at http://www.MyLooks.com.
About Viora
Viora is a market leader in the development of technologically advanced medical aesthetic systems for physicians and aesthetic clinicians worldwide. Dedicated to the research and development of safe and effective devices, Viora provides the highest standard of professional grade solutions while keeping aesthetic businesses in mind.