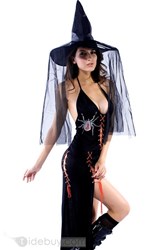 HK, China (PRWEB) October 25, 2013
With the Halloween rolling in, Tidebuy, the top Chinese women clothing online store offers 95% off discounts on their best Halloween costumes. Halloween is one of the most important festivals for westerners. On that day, western people will put on cute and funny costumes to celebrate the festival. Halloween costumes at Tidebuy.com come in various designs and styles. Some of them may look quite lovely and some of them may look quite sexy. Take a look at this site http://www.tidebuy.com. And you will find that all the costumes here are gorgeous and attractive.
The manager of the sales department of Tidebuy Mr. Li said on the publication day of their Halloween costume collection that they welcomed the Halloween, because many westerners would buy their products and it was really exciting to see many westerners wearing Tidebuy's costumes on that festival. He also added that it was a good opportunity to attract more customers and let more people know their website. He believed that with the advantage of good quality, fast delivery and best customer services they will be able to win more regular clients.
Indeed, Tidebuy has made full preparations for this Halloween. Its sales department, marketing department and customer service center are working together to achieve a great success in this Halloween costumes sales season.
"We are very busy these days since we need to make full preparation for the Halloween, but at the same time, we cannot stop promoting other items, such as women's clothing, boots, sweaters and so on. Sometimes we even need to work very late after working hours." The manager of the marketing department Mr. Zhang said, "Here I would like to thank the diligent employees of my department. You see, they are all very young and most of them only graduated from college this year, but they have no complaint at all. They know that we are in a battle. We are now making great efforts to win it."
It is true that most employees in Tidebuy are very young. From their lovely young face, you still can see their innocence and purity. Although these workers are young, but they learn fast, and now each of them can handle their own job very well. I asked a young girl named Li Chunxiao in Tidebuy why she is willing to work late after the working time. She smiled and said, "I'm interested in this job and I know only when our company becomes stronger and better, we the employees can be able to live a better life."
About Tidebuy
Tidebuy is a leading Chinese e-commerce company. In 2010, a group of passionate youngsters set up this company in Beijing, China. After a three-year development, Tidebuy has become stronger and stronger. Now, it operates business in more than 230 countries. This great success is not achieved by a particular person. It is the fruit of its different departments, which cooperate with each other harmoniously and pleasantly. Under the efforts of these fantastic departments and diligent employees, Tidebuy surely will have a fruitful future.