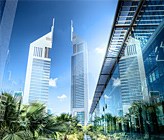 The business world is fast waking up to the importance of sustainability across all their activities--Mark Wills, Sustainable Asset Management
Dubai, UAE (PRWEB) October 26, 2013
Asia Plantation Capital (APC) has successfully operated an office and marketing base in Dubai since 2010, first based in the Landmark Emirates Towers and then since 2011 in the iconic Arenco Tower between the cosmopolitan Dubai Marina and bustling Downtown Burj districts. Reflecting increased demand for CITES and IFRA certified Oud oils and growing distribution of its sustainable Oud based products, APC has recently relocated into larger offices within the Arenco Tower; three thousand square feet with staggering views over the city metropolis of Dubai.
The expanded office includes a showcase of all Asia Plantation Capital Oud and Agarwood based products, in addition to other sustainable plantation products such as bamboo, teak and hardwood floorings for large buyers and retail chains. Alongside APC's agricultural and plantation marketing division, Sustainable Wealth Management will be providing consultancy and advisory services.
A new range of handmade fragrances developed with leading international perfumers Fragrance Du Bois, already taking Asian markets by storm, is a central feature of its product line up for Middle Eastern markets. Du Bois have developed a unique personality profiling and custom fragrance blending service for clients to enjoy a personalised selection from the myriad delights of Oud based fragrances. Chosen as the official fragrance by Amber Lounge, the iconic Formula 1 celebrity driver's party and charity fashion shows, at the forthcoming Singapore, Abu Dhabi and Monaco F1 Grand Prix, Du Bois has a special limited edition Oud fragrance being produced for the Abu Dhabi Grand Prix in November; with an official celebrity launch planned at the Al Yas Circuit.
During September and October Sustainable Asset Management, Singapore, will represent Asia Plantation Capital on a series of road shows to leading retailers and private equity groups across the Gulf region focusing on educating the local Arabic markets on the importance of sustainability in the Agarwood plantation sector and its supply chain.
Mark Wills, Managing Director of Sustainable Asset Management, comments that "as the business world is fast waking up to the importance of sustainability across all their activities, it is extremely important that niche industries, such as Agarwood plantations & distribution chains, are highlighted to not only ensure that traders comply with the law but equally to ensure their supplies are sustainable, thereby safeguarding future continued supply from what has fast become an endangered tree species in the wild; purely as a result of high commercial and consumer demand being serviced by unscrupulous and illegal supply lines. The road shows being supported by Asia Plantation Capital are important to help us communicate at ground level with all the strategically important elements of the supply chain from plantation owners and investors right through to consumer buyers of Oud oil and Agarwood chips".