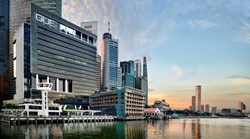 "This is a landmark move for Asia Plantation Capital and an important step for the company to build strong foundations for ourselves on the continent, and continue building our end product supply chains"--Barry Rawlinson, CEO Asia Plantation Capital
Singapore (PRWEB) October 25, 2013
Asia Plantation Capital is a dynamic agroforestry plantation-to-product organisation, an owner and operator of a diverse range of commercial plantation and farming businesses across the Asia-Pacific region and globally.
The OUE Bayfront already houses anchor companies such as Bank of America and Merrill Lynch International Bank Limited (Merchant Bank) within the 18 storey building. Asia Plantation Capital Singapore will now be keeping company with established names such as Allen & Overy LLP, Bain & Company SE Asia, Inc., Hogan Lovells International LLP, Skandinaviska Enskilda Banken AB (PUBL), Singapore Branch, and Union Bancaire Privee (Singapore) Ltd.
This move also allows the flagship Singapore office to house the wider Asia Plantation Capital group of companies as well as luxury fragrance brand Fragrance Du Bois. Indeed the OUE office will contain the company's second fragrance blending lounge in Singapore, following the unprecedented success of the original La Maison Du Bois in Suntec City. The blending lounge provides invited international buyers with an experience of personalised fragrance profiling led by a specialist fragrance consultant where a customised fragrance is hand blended to suit the moods and personality of each individual client; each fragrance created by Du Bois contains sustainable oud oil from Asia Plantation Capital's plantations.
Also the new office will house an Oud lounge allowing clients to sample premium Oud oils as available from Oudubois™. These premium Oud oils hail from the Asia Plantation Capital estates across Asia. Only the finest oils distilled from the sustainable plantations are used as the captivating base of all Du Bois perfumes and products. Additionally other plantation end products that Asia Plantation Capital are involved in from Teak and Bamboo to vitamin enriched rice, teas and food supplements will be showcased for international buyers.
Barry Rawlinson, CEO Asia Pacific Region, is delighted with the move to the OUE Bayfront. "This is a landmark move for Asia Plantation Capital and an important step for the company to build strong foundations for ourselves on the continent, and continue building our end product supply chains" said Barry. "We wanted to be right in the beating pulse of the financial district in Singapore, which in many ways is the financial heart of Asia too. It's an expansion that demonstrates the pace of growth that APC and its wider group of companies are enjoying. We are very excited about the future."
During the recent F1 Grand Prix Night Race in Singapore, Fragrance Du Bois was an official sponsor of the Amber and Podium Lounges as well as the Amber Lounge F1 Drivers fashion show and joined in the sparks with their launch of Oud Noir Intense, a perfume created just for the F1 events. Besides spritzing up celebrity guests and drivers at the Amber Lounge and the Podium Lounge, fragrance was pumped into the lobby of OUE Bayfront bringing the excitement and intrigue of the night race to all in the building. This has now developed into oud based fragrances created by Du Bois being used in other prestigious buildings in Singapore and Dubai as part of an ongoing strategy.