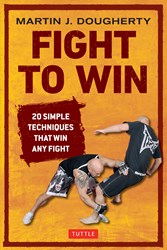 It's nice to know millions of martial arts techniques, but combat effectiveness does not require that. Instead, a small but versatile toolkit of techniques that you can use under many different circumstances is more useful…
North Clarendon, VT (PRWEB) October 25, 2013
If you're looking to learn how to beat someone in a fight, there are thousands of techniques to choose from, often taking years to master. "Fight to Win," now available from Tuttle Publishing, presents 20 simple techniques to beat the competition – every time. The 20 fighting techniques are laid out by internationally-acclaimed fighting instructor, Martin J. Dougherty, with 400 color images, and zero complex fighting terms.
With the popularity of sport fighting sharply increasing, live matches and televised fights are more accessible to budding fighters than ever. Mixed martial arts, also known as MMA, boasts 31 million fans through the Ultimate Fighting Championship, and the great mainstays of dramatic wrestling, World Wrestling Entertainment and the National Wrestling Alliance broadcast to over 650 million homes worldwide. As if these modern options were not enough, fans of fighting have hundreds more traditional choices to delve into: Kalaripayattu, Karate, Krav Maga, Capoeira, Kung Fu, Boxing, Wrestling, Fencing, the list goes on and on.
"Fight to Win" takes decades of the author's fighting experience across a range of practices and distills it down to the essentials. According to Dougherty, "This is not a book about performing martial arts techniques - it's about becoming an effective fighter." The book has a wide range of appeal, from new fighters to experienced fighters, from the bullied to the bouncers. "Fight to Win" is available for purchase wherever books are sold.
About the Author
Martin J. Dougherty is a Master Instructor with the Self-Defence Federation, holds three black belts and is professionally qualified as a fencing coach. He has more than 20 years of experience as a sports instructor and has written or contributed to more than 50 books. He has trained championship fencers, kickboxers and martial artists in many disciplines, and has taught self-defense for a wide range of applications including female attack victims and individuals with severe physical disabilities. He lives in the United Kingdom.
About Tuttle Publishing
Established in 1948 by Charles Egbert Tuttle Jr. in Rutland, Vermont and Tokyo, Japan, Tuttle Publishing is the premier publisher of English language books on Asian culture. Today, Tuttle maintains an active offering of books on a wide range of topics, including Asian culture, Asian literature, Asian architecture, Eastern spirituality, gardening, cooking, martial arts, crafts, travel, health and wellness, and fine art for a worldwide audience.