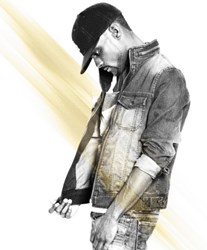 My album is not a "gay" album... This album is the story of a man who lost something and was lucky enough to regain it.
New York, NY (PRWEB) October 24, 2013
This week iTunes hand-selected openly gay rapper LastO's debut album Where's Vivian? as one of this months "Hot Indie Titles". Exclusively streaming his critically acclaimed and long awaited album one week in advance with Next Magazine, the rapper is perfectly poised to present a new face to Hip-Hop.
After releasing Where's Vivian? on Tuesday, Out Magazine described the album as, "a debut album that puts lyricism squarely at the forefront, with a dose of politics and love." From touching on subjects of equality, politics, love and angst, LastO is adamant that his album is not a gay album.
"My album is not a "gay" album. Gay is sex. You have sex with a man. You have sex with a woman. Gay has a culture because of society's preoccupation with trying to ostracize us. That oppression unified us and created a community with a vernacular and etc. This album is the story of a man who lost something and was lucky enough to regain it."
As celebrated and respected as he is for his artistry, LastO still finds himself stuck under a glass ceiling. "Being gay in hip hop is the textbook paradox. It is that brick wall that seemingly keeps yo ass 100% out of the game and yet it is that edge that sets you apart. And in this climate of homogenous one-brained rappers, having something that sets you apart is the golden ticket."
As LastO is positioned to be the new face of Hip-Hop, a music video for "Pour A 40" is in the process of being shot in support of the album. The New York rapper is also preparing dates for a national promotional tour. LastO's debut album, Where's Vivian? is available for purchase on iTunes here: http://smarturl.it/WheresVivian
ABOUT LASTO: Since 2009, LastO (Last Offence), has been building a repertoire of music that stretches the limits of what his genre will allow. Born in Saint Louis, the young emcee only dabbled in rap music at first, but once relocated to Los Angeles he found it impossible to ignore the urge to be heard. By October 2008, LastO debuted with the groundbreaking Run A Lap (EP) most famous for cult-status hits "So Magical" and "Hello Boyz". By March of 2009, the emcee was already offering a darker, grittier and overall more refined follow-up,Not For Non-Profit. Credits include: OutHipHop.com "New Artist of the Year 2008" and "Best Non-Album of 2008" for Run A Lap. QUEERTY.com's "Top 5 Black Homo-Hop Artist to Watch For" in 2009. Quoted in SPIN Magazine, L.A. Times and featured on DJ KaySlay's Shade45 Radio Show. He was also recently interviewed on NewNowNext.com. LastO currently lives in New York, and is prepping tour dates in support of his album, Where's Vivian?
###