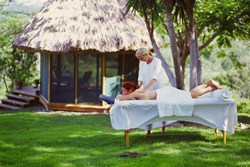 "This could be great news and possibly change the face of health care in Belize,"
San Ignacio, Belize (PRWEB) October 26, 2013
The Lodge at Chaa Creek said it is closely watching the newly-formed Belize Medical Tourism Association, which has recently been announced in the International Medical Travel Journal.
Chaa Creek Marketing Director Larry Waight said that the announcement of the service may offer benefits for both tourists and Belizeans.
"This could be great news and possibly change the face of health care in Belize," Mr Waight said. "It's also the next logical addition to the range of services we currently offer our visitors," he said.
According to an article in the International Medical Travel Journal News of 21 October 2013, "The new Belize Medical Tourism Association seeks to promote medical tourism to Belize while at the same time eventually ending the practice of Belizeans going abroad for medical care.
"The association has members from the medical and tourism sector. It sees medical tourism as an opportunity for medical practitioners and wants more members of the Belize Medical and Dental Association to join. Foreigners have been accessing medical services in Belize for years but in an ad hoc manner. Now, Belize will be marketed internationally as a destination for medical tourism. Patients will be offered packages that include medical services, hotel accommodation and tours," it reports.
Mr Waight pointed out that medical tourism is a field that is growing globally.
The Medical Tourism Association reports that "Medical tourism is a growing industry globally estimated at $60 billion dollars annually. Healthcare providers, facilitators, insurance agents and brokers, human resource professionals, hospital and tourism professionals are looking to receive advanced education in medical tourism as more insurance companies and employers implement medical tourism and more patients travel globally for care."
According to the an August 6, 2013 article in the New York Times by Elisabeth Rosenthal, "As health care costs in the United States rise, an increasing number of Americans are going overseas for elective procedures, or are at least considering that possibility."
The NY Times article also stated that "Hospitals in English-speaking countries offer an obvious advantage for Americans." And reports that a consortium of hospitals and health care providers in Northern Ireland has been exploring the possibilities of setting up a program to attract and treat foreign patients.
Mr Waight said the implications for Belize, where English is the official language, are obvious. "And at the very least the formation of a medical tourism industry in Belize would enhance services to our own guests, which would be a welcome addition to services already on offer," Mr Waight said.
According to "Belize, the Natural Niche", an online publication of The Belize Trade and Investment Development Service (BELTRAIDE) "Belize possesses a number of competitive advantages that put the country in a good position to become a medical tourism destination. Those are proximity to the US, being an English speaking country, branding as a top natural tourism destination, famous retirement destination, and experience with dental tourism."
"The fact that the scheme is falling under the scrutiny of BELTRAIDE and other agencies is good news, as it means any proposals will have professional oversight and be carefully examined," Mr Waight said.
"Whatever the outcome of this new development, it is very exciting that a new range of services is being considered for Belize and we keep growing as an important, full service travel destination," Mr Waight said.
The Lodge at Chaa Creek is an award winning eco resort set within a 365 acre private nature reserve in Belize.
ENDS