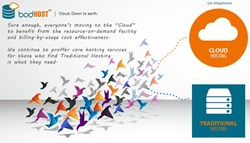 The Cloud revolution started with focus on lowering cost. Now it has moved its focus to increasing efficiency. In the next phase, Cloud computing will focus on improving innovation. - Mr. Probal DasGupta, CEO at bodHOST Ltd
Edison, NJ (PRWEB) October 26, 2013
Recently, in an interview with Mr. Probal DasGupta, CEO at bodHOST Ltd, the Cloud was mentioned, which led to an insightful conversation about where "Cloud" really stands today. He said, "While a common perception of the Cloud is that it eliminates CapEx, the real advantages for a corporation are greater business agility, enhanced business transformation through more actionable intelligence, and enhanced business sustainability."
Excerpts from the interview:
What is the importance of cloud computing today?
Probal: It is one of the key technologies that can lead to total business transformation. Today, information is a vital asset in business, and Cloud computing enables many possibilities that are not otherwise available through traditional I.T. For instance, there is a big drive towards Big Data and Business Intelligence. But it is the Cloud that can immediately help reduce the time between the generation of data and its availability to Management in the form of actionable intelligence. Ultimately, in today's fast paced business climate, a lot depends on business ability, which is an organization's ability to respond to external and internal change. Cloud computing directly contributes towards increased business agility by making I.T. resources instantly scalable and by implementing anytime-anywhere work culture across the board without any code modification, thereby making the organization more responsive."
What advantages does the cloud offer to businesses?
Probal: Apart from greater business agility and enhanced scope for business transformation – which are the two big points I have already explained – the other major advantages are lower CapEx; lower cost; higher productivity; introduction of a culture of self-service which ends up freeing the organization from heavy dependence on the I.T. department for operations and decision-making; as well as, improved business sustainability through better and lower cost disaster recovery. Cloud brings in a never-before flexibility into the mix which enables organizations to address varied requirements by utilizing scalable capabilities of the cloud. Cloud has the ability to serve heavy workloads involving huge computational resources as well as acts as flexible resource pool for testing and other short term requirements.
What do you think about the cloud hosting sector in other countries?
Probal: Cloud sector is expanding everywhere quite rapidly, with maximum adoption in US & European regions, without losing ground in the great national opportunities they have. But in my opinion it still remains to be done completely, especially in the communication area where cloud solutions will support their involvement in other countries, because the cloud solutions are still mysterious things there.
What will be the next expected developments in cloud?
Probal: The Cloud revolution started with focus on lowering cost. Now it has moved its focus to increasing efficiency. In the next phase, Cloud computing will focus on improving innovation.
About BodHOST:
bodHOST was launched in the early 1999 as a hosting company to address the needs of the then booming web hosting world. Since then, bodHOST has been at the forefront of the hosting industry. The ever-changing dimensions and requirements of the hosting world have necessitated numerous changes and advancements. bodHOST has been able to incorporate all these successfully.
Today, operating out of New Jersey, with data centers in Chicago and Montreal, bodHOST is focused on Cloud Computing, while continuing to address the Dedicated Server and Web Hosting markets as well. Located just 25 miles south of Manhattan, and in the heart of the USA's pharmaceutical & biotech corridor, bodHOST also offers SAP hosting to Corporate America, and is in the process of getting SAP certified as a provider of hosted SAP solutions.