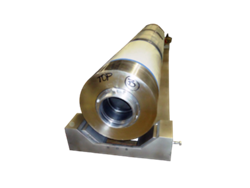 Many companies have informed us vessels need replacing before the equipment is fully depreciated.
White Pigeon, Michigan (PRWEB) October 25, 2013
The HPP industry has been concerned with the life cycle of the current wire wound vessel technology. "Many companies have informed us vessels need replacing before the equipment is fully depreciated," says Eric Lockovitch - VP of Business Development.
Fresher Evolutions HPP's ASME certified P.E. engineers are utilizing Autofrettage manufacturing techniques to produce a vessel that is much stronger and more durable than current wire wound technologies. "The ASME U3 certified vessel has a three layer design and produces inward pressure of 300 MPa (43,511 psi) in a static state. That means the vessel will not stress outwards until the internal pressures exceeds 300 MPa, greatly reducing the Operating Pressure high stresses common with current designs," stated Adrian Staruszkiewicz, ASME certified P.E. engineer.
Autofrettage is an elastic-plastic techniques to increase the pressure capacity of thick-walled vessels. When the vessel is subjected to an internal pressure, the internal portions of the part to yield and resulting in internal compressive residual stresses. The goal of Autofrettage is to increase the durability of the final product, while reducing the size and equipment cost. The technology is commonly used in the manufacture high-pressure pump cylinders, fuel injection systems for diesel engines, and battleship and tank cannon barrels.
Fresher Evolution is adapting this proven technology to improve a growing concern in the HPP equipment industry. As with all components in the Evolution Series the design improves current offerings while implementing proven technologies.
About Fresher Evolution HPP
Fresher Evolution HPP is committed to design, develop, and manufacture a cost effective and innovative High Pressure Processing (HPP) machine for commercial and industrial applications. The Fresher Evolution design and manufacturing team brings together the best proven solutions by some of the leading companies in the world today in the fields of Ultra High Pressure Tubing and Fittings, Hydraulic Solutions, Controls and Automation, Pumps and Intensifiers, ASME U3 Design and Code Compliance of all ASME Code manufactured components.
All Natural Freshness, partnered with Fresher Evolution in the HPP Machine design of key components, including the material handlings and baskets.
About All Natural Freshness
All Natural Freshness provides End-to-End HPP Solution in terms of HPP machine, HPP operation consulting service, HPP packaging, material handling, tolling program, recipe validation etc. to deliver a premium product with a fresher, safer, healthier with an extend double or triple shelf life of their all natural products. All Natural Freshness' goal is to bring HPP to the masses by providing solutions that allow companies to have "the lowest cost per product pound with the fewest touches possible." To make that possible ANF has developed a solution that offers customer specific levels of automation versus manual operation and, the key to the whole puzzle, a stackable, moveable, shipping ready buffering system. For more information, visit http://www.allnaturalfreshness.com.