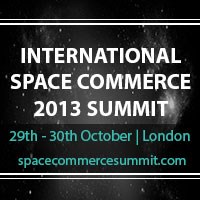 It's an IRN Summit!
(PRWEB UK) 24 October 2013
The ISC 2013 Summit takes place on Tuesday 29th and Wednesday 30th October in the Radisson Blu Edwardian Bloomsbury St Hotel in Central London, UK.
The International Space Commerce 2013 Summit is an exclusive senior-level meeting with a high profile speaking faculty discussing all aspects of commerciality in space. Daniel Rasky from NASA will discuss the economic benefits of space travel and development to society; Carlo Viberti, Founder & President at COSMO Spaceland, will present on combining research and commercialisation in the space sector; Xcor and SpaceX will provide high-level insights on how Europe can create the best regulatory and socio-economic conditions to spur the growth of European commercial space industries as well as on the future of commercial space transportation. Moreover, the latest status of the XCOR Lynx will be thoroughly discussed.
Moreover, the speaker faculty includes a strong panel of experts from Space agencies from around the globe including the UK Space Agency, China National Space Administration (CNSA), European Space Agency (ESA), German Aerospace Centre (DLR), Italian Space Agency (ASI) and the Czech Space Office.
The Summit will also host an investor panel to clearly understand the factors that drive investment in the space industry, with featured guests including Chad Anderson (Space Angels Network), Per Wimmer (Wimmer Space) and Andrew Nelson (XCOR Aerospace).
Distinguished experts will be present at the meeting from private and public bodies such as the Economic Policy Centre, London Institute of Space Policy and Law, Spaceport Sweden, Mars One, CBK PAN, Astrobotic, COSMO Spaceland, Technology Strategy Board, The Isle of Man Government, zero2infinity, Wimmer Space, International Institute of space Law (IISL) / International Institute of Air and Space Law, Generation Orbit Launch Services, Spectrum Policy Group, Ofcom, Surrey Satellite Technologies, Astrium Satellites, Deep Space Industries, SATEC, Atrium Space Insurance Consortium, D-Orbit, Astrium Services, JKIC, Oklahoma Spaceport, HET Hochleistungs-, Eisenbahn- und Transporttechnik Entwicklungs GmbH, Insyen, Orbital Outfitters, Eutelsat, RapidEye, Danish Aerospace Company, Almatech, AZURSPACE Solar Power, Pakistan Space & Upper Atmosphere Research Commission (SUPARCO), Jaxa – Japan Aerospace Exploration Agency, Elmiz JSC, IHI Aerospace Co., Russian Governmental Officials, Space Operations Consulting, Reed Expositions, UC Denver, Booster Industries and many more others.
The ISC 2013 Summit is supported by MarsOne, International Association for the Advancement of Space Safety, Space Angels Network, Canadian Space Commerce Association, IETS, Italian Space Agency and sponsored by Oklahoma Spaceport – OSIDA, SATEC and SHIPinSPACE.
More information can be found on the website of the summit at http://www.spacecommercesummit.com.