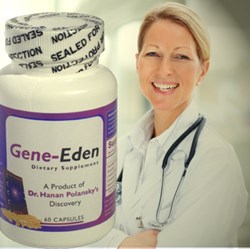 When herpes infected individuals' immune systems are weak, we recommend that doctors choose to prescribe a herpes remedy proven to be safe and effective. – Mike Evans, polyDNA
Rochester, NY (PRWEB) October 26, 2013
Many doctors know that drugs lower the immune system. These drugs include steroids (such as Prednisone), statins (such as Lipitor), and pain killers (such as hydrocodone, morphine and codeine). They also include drugs used in chemotherapy. Now, a new study has found that these drugs can cause herpes virus reactivation (1).
Herpes, like many viruses, is able to establish a latent infection. When the virus is reactivated, it replicates and causes characteristic symptoms, including cold sores, fever blisters, and genital sores. Researchers have long suspected that certain drugs, "especially those that suppress the immune system, may activate latent herpes viruses even as the drugs carry out lifesaving tasks within the body (1)."
The lead author of a recent study published in October in the Journal of Virology wrote specifically about drugs used in chemotherapy (such as prednisone, doxorubicin and vincristine). He describes how the drugs lower the immune system, and reactivate the herpes virus. "Viral reactivation during immunosuppressive therapy, especially chemotherapy, is a very real event." - Dr. Jack Goldberg, oncologist, Penn Presbyterian Medical Center (1)
In addition, these drugs "work by inducing programmed cell death, a normal cellular function called apoptosis, to destroy cancerous cells. Herpes viruses lying dormant within these doomed cells 'sense' the impending death of their (cellular) hosts and reactivate to infect new, healthy cells (1)."
But chemotherapy drugs are just the tip of the iceberg. Steroids, statins, and pain killers can also lower the immune system and reactivate the herpes virus. For example, the Mayo Clinic says on its website that "Corticosteroids…suppress your immune system (2)."
An article on Examiner.com discusses a study published in 2012 in the Journal of Leukocyte Biology, which showed how statins, such as Simvastatin and Lipitor, also suppress the immune system. "Simvastatin increases production of molecules, named cytokines, that trigger and sustain inflammation. According to this latest study, these medications reduce immunity by changing how our immune system functions (3)."
Finally, a study published in 2006 in the medical journal Palliative Medicine, showed that "opioids (strong pain killers) can produce several well known adverse events, and, as has recently been recognized, can interfere with the immune response (4)."
Because many drugs weaken the immune system, and reactivate the herpes virus, many doctors "have already begun prescribing antiviral treatments along with some…drugs in an effort to stave off viral reactivation (1)." Thus, polyDNA recommends Gene-Eden-VIR, a natural herpes remedy, which was proven to be safe and effective in a post-marketing clinical study. That study was published on August 12, 2013 in the peer reviewed, medical journal Pharmacology & Pharmacy, in a special edition on Advances in Antiviral Drugs (5).
"We designed Gene-Eden-VIR to specifically help the immune system target latent viruses. When herpes infected individuals' immune systems are weak, we recommend that doctors choose to prescribe a herpes remedy proven to be safe and effective." – Mike Evans, polyDNA
Each ingredient of Gene-Eden-VIR was chosen through a scientific approach. Scientists scanned thousands of scientific and medical papers published in various medical and scientific journals around the world to identify the safest, most effective natural ingredients that target the latent form of HSV. (5)
We recommend that doctors learn more about Gene-Eden-VIR. They can do so by reading the full study on Gene-Eden, here: http://www.scirp.org/journal/PaperInformation.aspx?PaperID=36101
References:
(1) http://scienceline.org/2013/10/herpes/
(2) http://www.mayoclinic.com/health/steroids/HQ01431
(3) http://www.examiner.com/article/new-study-statin-meds-increase-inflammation-and-reduce-immunity-humans
(4) http://www.ncbi.nlm.nih.gov/pubmed/16764216
(5) http://www.scirp.org/journal/PaperInformation.aspx?PaperID=36101
polyDNA is a biotechnology company that develops dietary supplements using the unique scientific method developed by Dr. Hanan Polansky, which is based on Computer Intuition.
In addition to his unique scientific method, Dr. Polansky published the highly acclaimed scientific discovery, called Microcompetition with Foreign DNA. The discovery explains how foreign DNA fragments, and specifically, DNA of latent viruses, cause most major diseases.
polyDNA developed Gene-Eden-VIR, an antiviral natural remedy that helps the immune system kill latent viruses.