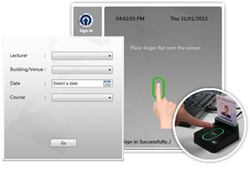 Londn, UK (PRWEB UK) 25 October 2013
Condé Nast, the world renowned publishers of leading quality lifestyle magazines including Vogue, Tatler and House & Garden have established a brand new college in London for Fashion and Design. They chose the leading cloud-based Student Attendance Management System (SAMS) from BQu to ensure they can monitor student attendance and engagement in the most efficient and cost effective way possible.
BQuTMS (http://www.bqutms.com/) are delighted that Condé Nast have chosen their leading cloud-based Student Attendance Management System to ensure they can monitor student attendance and engagement in the most cost effective way possible.
The Condé Nast senior management team required a system to measure, monitor and report on student attendance and engagement in an efficient and user friendly way that was also reliable, cost effective and scalable.
One of their prime requirements was to run a system which was completely cloud-based, in order to gain the efficiencies and cost savings that such systems deliver. These include:

Real time reliable information
Applications can be accessed from any computer, anywhere in the world
No hardware or infrastructure required, can run on existing equipment
Users can avoid expenditure on hardware and software; only using what they need
Companies can share resources in one place
Consumption is billed as a utility with minimal upfront costs
Scalability via on-demand resources
Flexibility enabling the ability to quickly meet business demands
Security of Information – No need for elaborate Disaster Recovery Plans.
Automatic software updates
Cap-Ex free – Pay as you go, because cloud computing is much faster to deploy; businesses have minimal project start-up costs and predictable ongoing operating expenses
Lower operating costs - A recent survey by IDC (International Data Corporation) found that almost every SME that uses cloud services saves money, with most lowering costs between 10% and 20%.
The cloud grants SMEs access to enterprise-class technology. It also allows smaller businesses to act faster than big, established competitors.
The staff and the students appreciated the simplicity and ease of use that the system provided. The database is updated within seconds for new student induction and the class registration process is instant, making it easy and seamless for students and staff.
Starting as a brand new college, Condé Nast needed a solution that was economic to implement, but also gave them security that it could support their needs going forward as student numbers grow. The unique nature of the BQuSAMS offering ensured that Condé Nast gained the benefits normally expected from much more sophisticated and expensive systems right from the start.
The college staff found that they needed little or no specific training on navigating and using the system and that it is genuinely intuitive to use, enabling them to implement it and use it fully from the start. Registrar Dione Hyland said, "It really is simple, straight forward and easy to use".
BQuSAMS (Student Attendance Management System) ensures that users can easily comply with their Tier 4 licence obligations in an efficient and cost effective manner.
A good Student Attendance Management System (SAMS) will produce accurate data to evidence the engagement and progress made by their students and enables cost effective reporting to their stakeholders.
A further benefit is that the systems real time reporting enables staff to easily identify students whose attendance and engagement is below expectation immediately. They can then make effective intervention to work with the student concerned and provide appropriate support and encouragement to get them back on track.
This has a profound positive affect on student retention, which greatly improves revenues with.
It also leads to improvements in the numbers of students completing and attaining their qualification, which enhances the reputation of the institution.
BQuSAMS has proven to be one of the best and most cost effective cloud-based solutions available for the UK HE sector, which faces the dual challenges of financial hardship and compliance. BQuSAMS enables both to be met and overcome effectively. Further details are from the website http://www.bqutms.com.