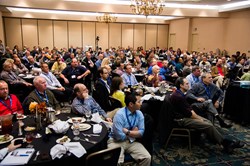 "Lean Thinking is a set of practices that started many years ago in manufacturing," says Jeff Fuchs. "But people are discovering that the principles apply to every function in any type of organization."
Baltimore, MD (PRWEB) October 25, 2013
The event will include 2 main conference days Tuesday and Wednesday, the 5th and 6th of November. The conference features six keynote speakers and 31 concurrent presentations, including a dedicated presentation track in lean healthcare, and a "conference within a conference" on lean government and education. Nine optional workshops will be offered on Monday and Thursday. Thursday will also feature five half day tours of local companies demonstrating world class best practices. The event is open to the public.
Companies of all industries from across the mid-Atlantic region will showcase their successes using lean methods. Aerospace and defense companies, including ATK, Northrop Grumman, and Raytheon, will detail their results. Five presentations will explain how lean is helping to drive down waste and the cost of healthcare. Other case studies will be available from companies as diverse as CapitalOne, La-Z-Boy, and a group of small dairy farms.
"Lean Thinking is a set of practices that started many years ago in manufacturing," says Jeff Fuchs, the MWCC's Director and the conference organizer. "But people are discovering that the principles apply to every function in any type of organization. Wherever you have a process, you have the opportunity for process improvement."
One of the highlights of the 2013 Mid-Atlantic Lean Conference will be an imbedded conference on 5 November describing applications of lean methods to government and education. "Lean works equally well in the public sector as it does in private industry," said Fuchs. Directors of statewide lean initiatives from Iowa and Minnesota will share their states' results and lessons learned. Lean education examples from a Michigan county public school system and Worcester Polytechnic Institute will help show how lean changes to educational processes can improve student outcomes.
Conference keynote speakers include prominent business executives and thought leaders practiced in the art and science of performance excellence. Jerry Bussell is the author of Anatomy of a Lean Leader and the former Vice President of Operational Excellence at Medtronic. Teresa Hay McMahon is one of the principal architects of the State of Iowa's ten year-old statewide lean government initiative. Steven Spear is the Senior Lecturer at the MIT Sloan School and author of several books, including The High Velocity Edge. Kevin Duggan is the founder of the Institute for Operational Excellence and author of three books including Design for Operational Excellence. From the state of Washington, Paul Akers is president of FastCap, and from Rhode Island, Karl Wadensten is president of Vibco Vibrators. Both are renowned lean business leaders, promote lean thinking through radio and television appearances, and profess an abiding interest in bringing lean ideas to the improvement of government.
On the night of November 5th, the Consortia will present several awards, including special recognition for Jerry Solomon, Vice President of Operations for MarquipWardUnited (MWU), located in Hunt Valley. Jerry is the author of two award-winning books on Lean Accounting, and is nationally recognized as a leader in the field. At MWU, and its parent organization, Barry-Wehmiller, he has been instrumental in the design and rollout of the company's people-centric leadership development system, which has been benchmarked and studied by prominent business leaders from around the world.
The Maryland World Class Consortia is a non-profit organization established in 1996 to help organizations of all types to understand lean production and service methods, increase the competitiveness of Maryland business, and grow the Maryland and regional economies.