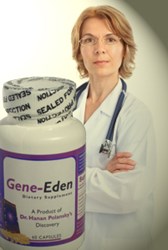 Those who are infected with the latent HPV should consider Gene-Eden-VIR. - Mike Evans, polyDNA
Rochester, NY (PRWEB) October 27, 2013
A new study shows that HPV doubles the risk of acquiring HIV. This study adds support to a line of research described in an article published on August 10th 2012 on hivandhepatitis.com (2), which mentions a review of the scientific literature.
Interestingly, researchers have long recognized that the reverse is true. "HIV positive people are more likely to have HPV, carry more different HPV types on average, and are less likely to spontaneously clear that virus (2)."
Lead researcher, Catherine Houlihan from the London School of Hygiene and Tropical Medicine, wrote that "Meta-analysis of studies in women showed an association between prevalent HPV infection and HIV acquisition…and, a similar association was seen in MSM (men who have sex with men) and heterosexual men (2)."
In addition, researchers noted that strategies for preventing HIV need to include prevention of HPV infection, and that more studies need to be done to determine exactly how HPV infection increases the risk HIV infection, the virus that causes AIDS. "Given the high prevalence of HPV in populations at risk of HIV, consideration of HPV in future HIV-prevention studies and investigation into mechanisms through which HPV might facilitate HIV acquisition are needed (1)."
"Those who are infected with HPV and are concerned about being infected with the HIV virus should consider Gene-Eden-VIR. HPV prevention strategies today rely heavily on HPV vaccines that are controversial in terms of efficacy and safety, and do not help those with an existing HPV infection." – Mike Evans, polyDNA
A study published on August 12, 2013 in the peer reviewed, medical journal Pharmacology & Pharmacy, in a special edition on Advances in Antiviral Drugs, showed that Gene-Eden-VIR reduced HPV symptoms. Study authors wrote that, "Individuals infected with the HPV…reported a safe decrease in their symptoms following treatment with Gene-Eden-VIR (3)." The study authors also wrote that, "We observed a statistically significant decrease in the severity, duration, and frequency of symptoms (3)."
To learn more about Gene-Eden-VIR, and HPV visit http://www.gene-eden-kill-virus.com. All orders of Gene-Eden-VIR are completely confidential, and no information is shared or sold to any third party. Privacy is assured.
###
References:
(1) http://www.ncbi.nlm.nih.gov/pubmed/24149088
(2) http://www.hivandhepatitis.com/other-health-news/other-health-news-topics/hpv/3730-aids-2012-hpv-doubles-risk-of-hiv-infection
(3) http://www.scirp.org/journal/PaperInformation.aspx?PaperID=36101
polyDNA is a biotechnology company that develops dietary supplements using the unique scientific method developed by Dr. Hanan Polansky, which is based on Computer Intuition.
In addition to his unique scientific method, Dr. Polansky published the highly acclaimed scientific discovery, called Microcompetition with Foreign DNA. The discovery explains how foreign DNA fragments, and specifically, DNA of latent viruses, cause most major diseases.
polyDNA developed Gene-Eden-VIR, an antiviral natural remedy that helps the immune system kill latent viruses.