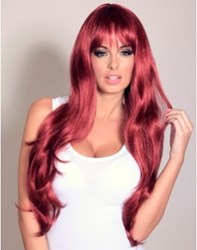 Wigs and half wigs have gone mainstream this year, allowing you to change your hair colour, length and style without committing to a permanent change.
London (PRWEB UK) 24 October 2013
This year has seen wigs and half wigs 'go mainstream'. Celebrities are using wigs to change their hairstyles on an almost weekly basis and it seems that the public are set to follow. Perfect if you want to change hair colour or style, but don't want to commit, wigs can be inexpensive, stylish and realistic.
Cosmopolitan say "Hair extensions are like so 2012. This year (and next) is all about wigs... Like wash-out rainbow hair colours and attention-grabbing nail art, this temporary transformer is perfect for commitment-phobes and the cash-strapped."
Wigs have always been popular on the runways, but this year more shows than ever opted for wigs on their models. Chanel, Fendi and Mark Jacobs all opted for on-trend wigs for their shows this season.
Leading wig and hairpieces brand and retailer, Wonderland Wigs say, "This year we have seen a big shift in our customer base. We used to sell mainly to ladies who suffered from hair loss, or wanted a wig for a particular occasion, but now we are seeing more a more girls buying half wigs and wigs to wear for everyday use, just because they can."
"Girls are using our products as an inexpensive way to keep up with hair trends and fashions, chopping and changing their hair style on a constant basis. This Summer our range of dip dyed wigs was really popular over the festival season, and we find that our half wigs are a popular hair accessory for weekend wear, for nights out."
Wonderland Wigs stock over 300 styles of their high quality own brand 'Wonderland' range, they also carry other popular brands. Worn by celebrities worldwide, the Wonderland Wigs collection is an innovative range of stylish, high quality, yet affordable wigs. All of their hairpieces, wigs and extensions are available to buy online at http://www.WonderlandWigs.com.