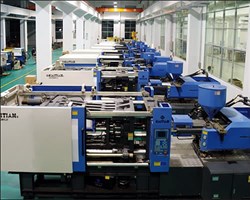 (PRWEB) October 24, 2013
Wuxi Glory Plastics is a leading plastic molding manufacturer in China. Today, the company introduces its new plastic cap collection to the visitors from Germany. These new plastic caps come with big discounts now, up to 32%. Moreover, custom designs and services are available here.
Wuxi Glory Plastics attended the 114th Canton Fair a few days ago, and the German visitors are actually its old customers who have business relationships with the company for many years. The new plastic caps go through a strict quality control, and it is said they are specially designed for the German market, which has a very high quality requirement.
Wuxi Glory Plastics is proud to offer a wide range of blow molding services (polymer properties, machinery, tooling and auxiliary equipment, processing and more). The internet provides an international experience to clients around the world who may not ever have the opportunity to come to China.
The CEO of the company says, "The plastic cap promotion is specially launched to attract more clients worldwide. The new products are widely used in medical, hygiene, filtration, disposable products and construction applications. We are ready to help all kinds of manufacturers, OEMs and converters develop their next product innovations."
Wuxi Glory Plastics engaged in developing and manufacturing custom molded plastic product in China by taking advantages of our relatively low labor costs. We have most experienced workers in China, If you're looking for product design, engineering, prototyping, and mass production, Glory plastics can always find a solution for you. For more about our products and services please visit: http://www.plastics-molding.com/Cap_Closure.htm.