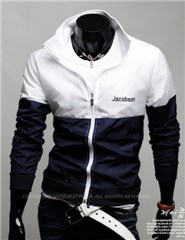 With fashion trends constantly changing, we always come up with innovative designs and features.
(PRWEB) October 28, 2013
4leafcity.com, a famous company specializing in various hot styles of clothes, has introduced its new men's outerwear collection today. Additionally, the company has launched a special offer on all these outerwear. All the new men's outerwear from the company are now offered at discounts, up to 30% off.
"We are excited to launch the special offer. All our new men's outerwear will dazzle customers from around the world with countless trendy looks. We have a large number of hot styles in stock. Now, they are all available at low rates. Those who need men's outerwear, please visit our website as soon as possible, or else you may miss the opportunity that will not last forever," says Ann, a spokesman for the company.
According to Ann, each old and new client can enjoy a discount up to 30% off. 4leafcity.com aims to help every man from all over the world look handsome. The new range of men's outerwear provided by the company this time does well in comparison with many other counterparts; each of them is really affordable and worthy.
What's more, the company has now updated its website. It often provides worldwide customers with innovative products. To meet the different needs of clients, its products come in almost all sizes and colors. 4leafcity.com is now working hard to integrate businesses, hoping to be a reliable supplier for international growth.
About 4leafcity.com
4leafcity.com is a leading company operating though the online platform 4leafcity.com. The company supplies exotic women's dresses, elegant men's dresses, cool iPad mini cases, iPad mini leather cases, and various accessories. It is known for its high quality and low rates. For more information, please visit http://www.4leafcity.com/product-men-s-outerwear-jackets-009003.aspx.