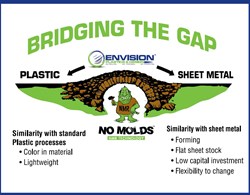 They could go to an off-the-shelf branded box, but at times these are not very well customizable or possibly available in the look, feel, size, and shape they want.
St. Paul, MN (PRWEB) October 29, 2013
In previous submissions in this series on NMR Technology and custom plastic electronic enclosures, the aspects of the manufacturing process were detailed along with how best to design within the NMR parameters. So, if you, as a reader, had a direct application for this, it's easy to read this series and see how NMR can directly affect your project. If you don't have a project, you may be asking – "Where is this NMR Technology best utilized?" This installment will discuss the markets for NMR and how they may fit your market or future plastic enclosure applications.
First off, NMR finds itself in the "low volume production" market. Yes, this could include prototypes, but those usually lead to production of some type. High volume production (5,000 EAU) is best off with injection molding; whereas lower requirement volumes may be best utilized with the No Molds Required Technology. So what markets use this volume sweet spot? Well, the medical device market is surely a great candidate. No, this would not include implantables, but more so tabletop machines, portable devices, and possibly even part components in large cabinets, carts, or even MRI machines. The volume sold to hospitals by medical device manufactures fits this volume level very well. NMR Technology has served dozens of customers in this market such as Boston Scientific, St. Jude Medical, Medtronic, and GE Healthcare using the NMR Technology.
Another lower volume area of development is with the entrepreneur who has "this idea." More specifically, they need a housing for their idea or as a component of their idea. They could go to an off-the-shelf branded box, but at times these are not very well customizable or possibly available in the look, feel, size, and shape they want. This brings them to NMR Technology for their custom plastic electronic enclosure needs. Their requirement at first may be just one to test their product's "guts." The second requirement in their products lifecycle is market testing – or possibly UL or FDA testing. The third requirement is to get their product in the hands of their distributors or better yet, their first customers. This is a great value NMR adds to the product design flow. An SLA may work for testing the "guts," but to go to testing with an SLA would not be acceptable - nor would production parts for their customers. Conversely, the volumes required and the financial investment is nowhere near in line with common sense. Essentially, NMR Technolgy helped this entrepreneur or start-up company get their product to market faster and more economical than any other process which fabricates custom plastic enclosures.
The two examples described above are surely on different ends of the spectrum in scope. However, they overlap. There are many other markets which overlap as telecommunications, industrial controls, automotive, computers, aerospace, and even military. So, the next time a need arises for a plastic bezel, plastic housing, or some kind of plastic panel, keep NMR in mind… you may just be its next user.