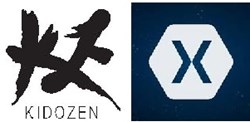 Boca Raton, FL (PRWEB) October 24, 2013
KidoZen is ushering in a new era of frictionless enterprise mobile solutions by enabling backend capabilities, enterprise integration and application management to enterprise mobile apps. With every customer or partner success, KidoZen is challenging traditional mobile enterprise application platform (MEAP) technology with a richer, simpler and exponentially more robust model that allows developers to incorporate backend capabilities such as security, data or integration with corporate systems into their enterprise mobile applications in a very simple manner. KidoZen has established an impressive partner ecosystem that includes top system integrators, enterprise mobility professional services firms, cloud and mobile technology providers, telcos and other types of organizations that are joining KidoZen's goal of democratizing enterprise mobility.
"Xamarin has become one of the most relevant mobile application development platforms in the modern enterprise mobile ecosystem. KidoZen Xamarin SDK extends Xamarin mobile applications with the rich mobile backend, integration and management capabilities provided by the KidoZen platform" said Jesus Rodriguez, Co-Founder and CEO of KidoZen. "Using the KidoZen Xamarin SDK, Xamarin developers can now implement mobile solutions that seamlessly integrate with corporate enterprise systems such as SAP, SharePoint, Siebel and dozens of others with just a few lines of code from within Xamarin's IDE".
"Successful enterprise mobility means seamless access to mission-critical, often sensitive, data from a variety of corporate systems." says Zack Gramana, technical lead of the Xamarin Component Store. "Our partnership and technical integration with Kidozen helps developers accelerate the delivery of secure, integrated mobile apps across device platforms."
As part of this strategic alliance, KidoZen and Xamarin will start collaborating on different initiatives to extend the value proposition to Xamarin and KidoZen's customer, partner and developer communities.
About KidoZen
KidoZen is an enterprise mobile platform as a service that was created to accomplish a simple and yet powerful goal: ENABLE THE MOBILE-FIRST ENTERPRISE. KidoZen is accomplishing this goal by providing a ridiculously simple model for developers to enable, manage and operation enterprise-ready backend for their mobile applications. Focusing on enterprise-ready backend capabilities, KidoZen makes it extremely easy for mobile application developers to integrate with line of business systems both hosted on the cloud or behind the firewall. To this day, KidoZen is providing the foundation for the mobile enterprise in a large number of enterprises ranging from medium business to Fortune 500 organizations.
About Xamarin
Xamarin is the new standard for enterprise mobile development. No other platform enables businesses to reach all major devices-iOS, Android, Mac and Windows_ with 100% fully native apps from a single code base. Xamarin is used by over 400,000 developers from customer including Clear Channel, Schindler, McKesson, Halliburton, Cognizant, GitHub, Rdio and WebMD to accelerate the creation of mission-critical consumer and enterprise apps. Follow us @xmarinhq.