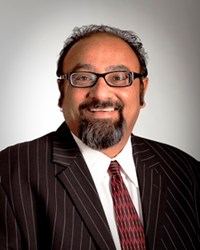 Atlanta, GA (PRWEB) October 29, 2013
IHG Owners Association, during the recent IHG Americas Investors & Leadership Conference, announced that Bakulesh "Buggsi" Patel has assumed chairmanship of its Board of Directors. Patel, of BHG Hotels in Portland, Oregon, is the first Asian-American to hold the position of Chairman for the IHG Owners Association in its 57-year history.
Patel has a strong history as a leader in the hotel industry. He served as Chairman of Asian American Hotel Owners Association in 2000, on the Executive Committee of the American Hotel & Lodging Association for several years, and served an unprecedented two terms as President of the Oregon Lodging Association from 1997-1999. He currently serves as Chairman of the IHG Owners Association Global Standards Implementation Committee, leading a ground-breaking overhaul of the standards process with IHG.
"Buggsi's global experience and strong ties to the Asian-American ownership community will be such an asset to our owners association," noted Eva Ferguson, Association President. "His leadership comes at a pivotal time for the Association as we look for ways to better serve our worldwide community of IHG owners."
During his introductory presentation at the Conference, Patel detailed his journey as a global citizen who has lived on four continents. He shared how his experiences, from growing up in Zambia to attending boarding school in England to opening his first hotel in the U.S., have helped him to appreciate the differences and similarities that cross all cultures. "Everything I have experienced … everything I have learned … will be put to use as we ensure a global focus for the Association," Patel stated in his opening remarks.
Patel has ownership interests in 23 hotels, located in Oregon, Washington, Idaho, Montana, Iowa, and Michigan.
IHG Owners Association
The IHG Owners Association represents the interests of owners and operators of more than 3,100 IHG® hotels worldwide. The IHG family of brands includes InterContinental® Hotels & Resorts, Crowne Plaza® Hotels and Resorts, Hotel Indigo™, Holiday Inn® Hotels and Resorts, Holiday Inn Express®, Staybridge Suites®, Candlewood Suites®, EVEN Hotels and Haulauxe. For additional information, visit http://www.owners.org or contact 770-604-5555.