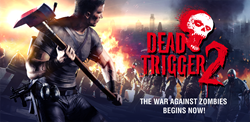 We know fans are going to be blown away with what these incredible developers have been able to push onto modern mobile devices with Dead Trigger 2.
Brno, Czech Republic (PRWEB) October 24, 2013
Dead Trigger 2, the sequel to the popular zombie hit with more than 23M downloads, Dead Trigger, hit both the App Store and Google Play yesterday evening. The visually stunning first-person zombie shooter brings a cutting-edge graphics and a new intuitive touch control scheme especially created for casual players.
Dead Trigger 2 brings gamers into a world where humanity is engaged in the ultimate battle for survival in the face of a global Zombie apocalypse. The reality of this worldwide apocalyptic conflict is underlined by the fact that the game is played out in real-time.
"The first time you play Dead Trigger 2, you become part of a global conflict. You are not alone and you are not playing only for yourself. You are one of many survivors across continents and from different parts of the world," explained Marek Rabas, CEO at MADFINGER Games. "While there are individual objectives within the context of the game, you must align your efforts together with other players to fulfill a joint global objective."
The developers emphasized core features in order to bring more emotional intensity into core gameplay. "We have completely re-worked the game pacing so that it's more responsive to players' actions. We placed a major emphasis on making a game that people would find entertaining," adds Rabas.
The first Dead Trigger has been downloaded by millions of players, leading the development team to create a new, casual gamer-friendly, touch control scheme. Gamers can still use the enhanced virtual joystick, while the Android version will fully support game controllers.
Dead Trigger 2 will offer amazing game content, including powerful Zombie bosses with an inventive approach to elimination, an impressive arsenal of weapons, and very special gadgets.
Moreover, MADFINGER Games promises to continue to support the game: "As the game develops, we plan to release new updates with additional locations, as well as adding new items, gadgets and more." confirmed Rabas.
"Madfinger is one of the premiere mobile developers known for pushing Unity to its limits," said David Helgason, CEO, Unity Technologies. "The original was an astonishing achievement and we know fans are going to be blown away with what these incredible developers have been able to push onto modern mobile devices with Dead Trigger 2."
Dead Trigger 2 is available on both iOS and Android – featured in NVIDIA's TegraZone – and is free to play. The game will be also released for Facebook, Mac and Steam in upcoming months.
The first game in the Dead Trigger series was released in summer 2012. It has since become a favorite within the gaming community, having more than 23M downloads across the App Store and Google Play. It has been met with significant acclaim, being selected for inclusion in the App Store Best of 2012, featured in the Apple "Hall Of Fame" and won Best Technical Achievement and Community Choice at the Unite 2012: Unity Awards, among other awards and accolades.
Download Dead Trigger 2 Press Kit here.
For gameplay tips and tricks be sure to check out the official Dead Trigger 2 website.