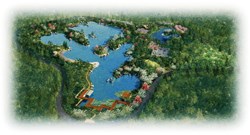 Grand Rapids, MI (PRWEB) October 24, 2013
Frederik Meijer Gardens & Sculpture Park, one of the nation's most significant botanic and sculpture experiences, announced today the official opening of The Richard and Helen DeVos Japanese Garden will be on June 10, 2015 at a private dedication ceremony.
The Japanese Garden will open to Meijer Gardens' members on June 11 and June 12, 2015. On June 13, the garden will open to the general public. Specific programming will be announced at a later date.
David Hooker, president & CEO announced the official opening date on a behind-the-scenes media tour this afternoon. While 2015 has always been the targeted year, a date hasn't been specified until now.
The public is welcome to view the progress of the Japanese Garden on behind-the-scenes tram tours, Saturday, October 26 and Sunday, October 27 at various times.
These exclusive tours will venture beyond the construction barricades along the north trail for views that haven't been available to the public in more than a year. Significant construction progress has been made including the erection of the front gate, tea-house and other prominent features taking shape.
The public tour tram tickets will be sold for the standard tram rate, $3 for adults and $1 for children, and sold on a first-come, first-serve basis.
The Japanese Garden, located in the northeast corner of the 132-acre property, will convey the essence of the Japanese tradition—tranquility, simplicity, spirituality and beauty. The design re-imagines existing features of the land, water, elevation changes and quiet surroundings.
Public Tour
What: Behind-the-scenes tram tour of the Japanese Garden
Where: Pick up at tram station
When: Saturday, October 26-Sunday, October 27, various times
Price: $3 adults, $1 children, plus general admission fees
###
Images available upon request.
About Frederik Meijer Gardens & Sculpture Park
One of the world's most significant botanic and sculpture experiences, Frederik Meijer Gardens & Sculpture Park serves nearly 600,000 visitors annually. Meijer Gardens was recently ranked in the top 100 most-visited art museums worldwide by Art Newspaper, the leading publication in global art news. The 132-acre grounds feature Michigan's largest tropical conservatory; one of the largest children's gardens in the country; arid and Victorian gardens with bronze sculptures by Degas and Rodin; a carnivorous plant house; outdoor gardens; and a 1900-seat outdoor amphitheater, featuring an eclectic mix of world-renowned musicians every summer. The internationally acclaimed Sculpture Park features a permanent collection including works by Rodin, Oldenburg, Moore, Serra, Bourgeois and Plensa, among others. Indoor galleries host changing sculpture exhibitions with recent exhibitions by Picasso, Degas, di Suvero, Borofsky, Calder and Dine.