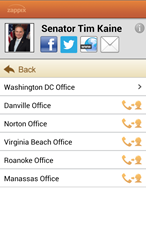 "...We wanted to provide the public with an easily accessible, free way to find and contact their US Senators; via phone, email, Twitter & Facebook."
Boston, MA (PRWEB) October 24, 2013
The Government shutdown generated, among other things, a flurry of calls from concerned citizens to their Senators and Representatives. Unfortunately, many found that there was no one to pick up the phone which created even more anxiety and furor amongst the citizens. Most citizens were either unaware or couldn't easily access other channels such as social media to communicate their frustrations and recommendations to the Senators.
Today, Zappix, the developer of the popular and free customer service mobile app announced that Zappix app users can now communicate with the US Senators via Facebook, Twitter, Email in addition to placing calls to any one of the local or Washington DC offices. Zappix is providing this "Super Directory" as a service to call, tweet or Facebook with US Senators via multiple means as a service that will be maintained and further enhanced to provide convenient and intuitive experience for citizens.
"We've heard from many of our users, over the past few weeks, who have had trouble trying to contact their US Senators. Wading through websites and search engines to find accurate contact information has added to their frustration over recent events. Hearing this, we wanted to provide the public with an easily accessible way to find and contact their US Senators; via phone, email, Twitter & Facebook." Said Gal Steinberg, Vice President of Marketing Zappix. Steinberg added, "Our goal is to provide the same convenience and accessibility our customer service app provides to consumers and businesses, to the public sector, creating a quick and easy way for the public to be heard by those who represent them."
The app displays the US Senators for the user's state (or they can change the state by selecting a different state in the top right menu). After the user selects a US senator they are presented with a directory of phone numbers and social media contacts for their US Senator.
The Zappix service is gaining popularity to access Customer Service at companies and organizations in the Boston and New York City areas where it has been rolled out to-date. The app makes it easier to get customer service via phone or social media on hundreds of businesses and is available free of charge for consumers to download through the Apple App Store and Google Play store. Businesses and organizations can subscribe to the Zappix service to provide native app experience to customers and non-customers much faster than any other alternatives.
More About Zappix
The Zappix content-driven, multichannel, cross-OS mobile customer support app and platform enable companies to deliver a vibrant, visual customer experience in order to engage clients on smartphones. Since 2012, the Zappix app has grown rapidly to support hundreds of companies that now provides consumers a streamlined way to reach customer service through a visual IVR and self service options. The continually expanding list of Zappix-supported organizations now includes insurance companies, utility companies, banks, internet and mobile service providers, retailers, airlines and government agencies.
Zappix recently opened its Headquarters office in Burlington, MA.
For more information about Zappix, contact Gal Steinberg, Vice President of Marketing at gal.steinberg(at)zappix(dot)com.
Other ways to contact Zappix:
Visit Zappix on the web at Zappix.com.
Follow Zappix via Twitter: @izappix.
Follow Zappix via Facebook http://www.facebook.com/zappixapp.