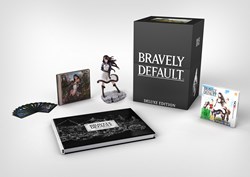 London (PRWEB UK) 24 October 2013
Shopto.net will handle in uk the Bravely Default Deluxe Collector's Edition Exclusive.
Developed by the team responsible for 3D Dot Game Heroes and available at retail only from ShopTo in the UK, the special edition of this turn-based role-playing game will be packaged in a game-themed box.
It features Japanese and English audio, as well as a job and battle system reminiscent of older Final Fantasy games.
In addition, the Deluxe Collector's Edition features a copy of Bravely Default , an agnes figurine, a deluxe art book, 34 AR cards and an Original soundtrack CD.
Bravely Default will be available in stores on December 6 in Europe.