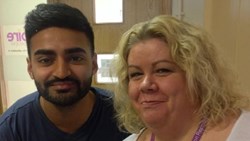 Birmingham, United Kingdom (PRWEB UK) 25 October 2013
Aspire People, an education recruitment consultancy based in Sutton Coldfield has launched a brand new nursery nurse and early years division. The consultancy traditionally helps local people find work in primary, secondary and special needs schools and colleges across the Midlands. With over 550 people working in schools every week the new division will tap in to the early years and nursery sector.
Senior recruitment consultant Emma Allen is heading up the new division, after 14 years experience in nursery management and recruitment. The team will help place qualified nursery nurses in to temporary positions and find work throughout the Midlands.
Emma said: "With 18 candidates and two nurseries already registered, the division is off to a flying start. Having worked in Nursery and Primary recruitment for a number of years I wanted a new challenge. I chose to work at Aspire People because of its incredible reputation throughout the industry and I look forward to putting my own stamp on early years recruitment in Aspire People."
Michaela Powell, founder and director, said: "The launch of a nursery division is a natural next step in expanding the business. We already have established links and great relationships with primary and secondary schools in the region and work with every local authority in the Midlands, so it makes sense for us to cast our net a little wider and look at new areas.
"The nursery team has an outstanding record in recruiting for primary schools, helping local people find TA and teaching jobs. Combine this with Emma's previous experience means we understand the needs of nursery management and can meet their staffing needs with dynamic, reliable and fully-vetted candidates."
The foray into pre-school recruitment marks a successful ninth year in business for Aspire People, which was launched by founder Michaela Powell in 2004. The firm has grown to more than 50 employees working across offices in Birmingham, Leamington Spa, Nottingham and Leicestershire.