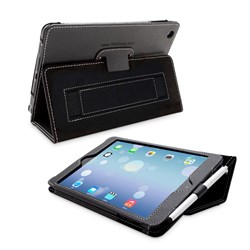 ...our iPad mini with Retina cases are already available...
(PRWEB UK) 25 October 2013
The iPad Air was released at the keynote, and it looks as impressive as the rumors predicted. Apple has kept the screen at the same size – 9.7" – but the body of the iPad has been redesigned. It's much slimmer than the iPad 4, with rounded edges and a smaller bezel, giving it a more sophisticated look. It weighs only one pound, making it the lightest full-size tablet around. The 64-bit A7 chip is another great addition, and will improve the iPad's speed and performance.
The other big announcement was the iPad mini with a Retina display. It's had a massive upgrade in the form of a new hi-res Retina screen, meaning that users will be able to see the content they love in stunning quality. The mini iPad also runs the A7 chip, so both tablets will offer a much faster performance.
The people from The Snugg are excited about the new iPads, and they want to know what Apple fans think of the new tablets. The case maker has put together an Apple iPad keynote survey to discover which tablet people are looking forward to, and what their favorite features are.
Les Yates, marketing manager at The Snugg, said: "Apple iPad launches are some of the most exciting events on The Snugg's calendar, and this one was no different! The iPad Air is definitely going to be popular over the holiday season, and the Retina screen is a great improvement to the iPad mini 2. However, we're more interested in what the fans think of the tablet releases, and our survey will definitely get some interesting responses.
"We're working hard on some great protective cases for the iPad Air and the iPad mini with Retina. Our iPad Air cases will be ready to ship on the same day the tablet goes on sale, and our iPad mini with Retina cases are already available, so you don't need to worry about your tablet being unprotected from knocks and bumps."
The new 2013 MacBook Pro was also a great addition to Apple's product line. The 15" version of the new MacBook Pro will be protected by The Snugg's case, which is also already on sale, so fans can make sure their laptop is covered straight away.