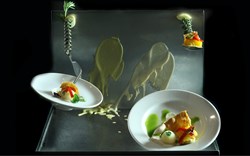 "We are delighted to present our new Salvador Dalí-themed menu starting in November at iNG Restaurant," said iNG Executive Chef Tim Havidic.
Chicago (PRWEB) October 25, 2013
Starting November 20, iNG Restaurant will take you closer to the personality of the great surrealist artist through culinary tastes with the new Salvador Dalí-inspired menu. The menu designed by recently crowned Executive Chef Tim Havidic sets out to create an educational as well as culinary experience by introducing guests to some of Dali's most well-known and celebrated quotes and works of art. Watch this video of The Persistence of Memory in the making.
Named in honor of the great artist himself, the new tasting menu embraces the heritage of Spain by presenting a menu reminiscent of Dalí's legendary flair and creativity.
"We are delighted to present the new Salvador Dalí-themed menu," said Executive Chef Tim Havidic, iNG Restaurant. "All the courses are based on quotes or works of art by Dalí. It is my hope all the love, attention to detail and passion that went into creating this menu will make fans proud. The courses are bold, imaginative, surreal and most importantly delicious."
For a taste of the unexpected, the menu features Honey is Sweeter Than "Bulls" Blood, complete with roasted beets, roasted beet sorbet with pine nut purée, orange zest preserves, pickled beets, paired with bulls blood salad topped with a frozen beet vinaigrette. Other notable dishes include The Persistence of Memory which features egg whites adorned with clocks, tortilla espanola with chorizo, onion and potato, roasted mushroom, smoked paprika sofrito purée and goat milk custard, along with goats milk crème fraîche. The course inspired by the work of art Tuna Fishing is a traditional fish stew in the Basque region and includes potatoes, onions, pimientos, and tomatoes. On the sweet side, dessert course Architechtonic Angelus features a brioche marshmallow mousse, turrón made with pistachios, apricots, dried cherries and orange blossom coupled with apricot wine sauce, and honeyed pistachios.
Each course is paired with a specialty cocktail, beer or wine that complements the dish to further enhance its flavors. The new tasting menu also features iNG's signature Miracle Berry, a natural berry that transforms one's ability to perceive sour, spicy, salty and bitter flavors and turns them into sweet sensations.
Guests can select from the ten-course tasting menu for $105, the six-course tasting menu for $85 or the three-course tasting menu for $50. For more information, visit the iNG Website at
ingrestaurant.com, and find iNG on Twitter @ingrestaurant, Facebook and the new iNG blog.
About Chef Tim Havidic
After spending time in his Meat and Fish butchery classes at the Culinary Institute of America in Hyde Park, New York, Havidic was asked to be Teaching Assistant in the Meat and Fish classrooms. Honing his skills and knowledge in Meat and Seafood for more than a year, Havidic was approached to complete a whole-animal butchery apprenticeship under Josh Applestone and Master Butcher Hans Seabald. After completing the apprenticeship, Havidic helped spearhead the opening of a local sustainable butcher shop in West Hollywood, California. Following his time in California, Havidic returned to Chicago and moto, back in the kitchen where he felt he belonged. After two years at Moto working every position from pastry assistant to Jr. Sous chef, to lead server in the dining room, Chef Cantu asked Havidic to take over as Executive Chef at ING.
About iNG Restaurant
Located in Chicago's trendy Fulton Market district, iNG Restaurant works with the elusive Miracle Berry. The organic, all-natural miracle berry contains a special protein that temporarily binds taste receptors. This process alters your ability to perceive sour, spicy, salty and bitter flavors shortly after consumption, allowing users to significantly reduce the need for refined sugar and all processed and artificial sugars. The menu at iNG changes each season, with Chef Tim Havidic and his team delivering "flavor-tripping" takes on everything from nostalgic meals with his "Street Food" menu to unique cocktails that are best served alongside a Miracle Berry. iNG Restaurant is located at 951 W. Fulton Market.