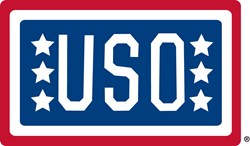 (PRWEB) October 24, 2013
What: USO Warrior Care Pack assembly
Who: Dr. Jill Biden
U.S. Senate and Military Spouses
John I. Pray, Jr. USO Executive Vice President, Chief of Staff
When: October 29, 2013
3:30 p.m. – 5:00 p.m.
Where: Vice President's Residence
*Media interested in attending must RSVP to Andrea Sok at asok(at)uso(dot)org or 703-579-0858 by Monday, October 28, 12 noon.
Why: Dr. Biden will be opening up her home to host U.S. Senate and military spouses to assemble 2,500 kits filled with some of the items requested most by our recovering heroes. Included among the lists of goods to be packaged are shampoo, shaving items, and toothpaste, along with other hygiene essentials.
Last year, Dr. Biden and First Lady Michelle Obama teamed up with the USO and Full Circle Home to package Mother's Day gift boxes for deployed troops to send to a special woman in their life. A military mom herself, Dr. Biden's children's book "Don't Forget, God Bless Our Troops," was inspired by her granddaughter's personal experience during her father's year-long deployment to Iraq.
In 2013, the USO will host more than 200 events designed to support our troops, military families and wounded, ill and injured troops as they transition, reintegrate and heal with honor.
For more information about the USO, visit uso.org.
# # #
About the USO
The USO lifts the spirits of America's troops and their families millions of times each year at hundreds of places worldwide. We provide a touch of home through centers at airports and military bases in the U.S. and abroad, top quality entertainment and innovative programs and services. We also provide critical support to those who need us most, including forward-deployed troops, military families, wounded warriors and families of the fallen. The USO is a private, non-profit organization, not a government agency. Our programs and services are made possible by the American people, support of our corporate partners and the dedication of our volunteers and staff.
In addition to individual donors and corporate sponsors, the USO is supported by President's Circle Partners: American Airlines, AT&T, Clear Channel, The Coca-Cola Company, Grand Canyon University, jcpenney, Jeep, Kangaroo Express, Kroger, Lowe's, Northrop Grumman Corporation, Procter & Gamble and TriWest Healthcare Alliance and Worldwide Strategic Partners: BAE Systems, The Boeing Company, Lockheed Martin, Microsoft Corporation and TKS Telepost Kabel-Service Kaiserslautern GmbH & Co. KG. We are also supported through the United Way and Combined Federal Campaign (CFC-11381). To join us in this patriotic mission, and to learn more about the USO, please visit uso.org.