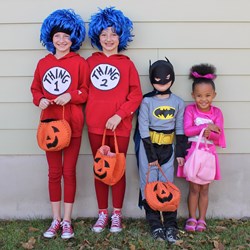 Since Boo Boos are bound to happen, the key is to be prepared and learn how to prevent!
Rhinebeck, NY (PRWEB) October 24, 2013
Though it should be a night full of fun with a smidgeon of scare, spooky Halloween injury statistics provide true life fright!
Statistically, Halloween usually competes with Fourth of July and New Year's Eve for the most injuries on a holiday. Some of the most serious injuries include burns from open flames and flammable costumes; candy choking; abrasions from sharp objects and knives, and motor vehicle accidents. Less serious but still of concern are stomachaches from eating too much candy; back and foot aches from walking the neighborhood (especially if wearing uncomfortable costume shoes); and skin rashes from decorative materials.
Since Boo Boos are bound to happen, the key is to be prepared and learn how to prevent! With knowledge and preparation, there are strategies families can take to keep the wicked ways of Halloween at bay. Topical BioMedics, Inc. tackles the top three hallows eve misfortunes: Injury, Fire, and Pain.
Injury Prevention: According to the American Society for Surgery of the Hand, each October pumpkin carving results in hospitals dealing with four to five times more hand injuries than normal! Cuts, lacerations, and puncture wounds to the hand can damage nerves, tendons, and joints. The best advice is to take a quick carving lesson prior to creating one's Jack O' Lantern. There are many online video tutorials geared toward safe pumpkin carving. Dr. Robert Adler, Vice Chairman of Pediatrics at The Children's Hospital in Los Angeles and his injury prevention team offer up this video titled, How to Carve a Pumpkin: http://bit.ly/1cHFYjy
As well, the hospital's team gives this advice in regards to pumpkin tops - two reasons you should not cut the top off your pumpkin before carving:
1. You are more likely to stick your hand inside the pumpkin while carving and injure yourself.
2. It helps maintain a clean and dry work space.
Fire Prevention: From flammable costumes to live lights that keep Jack O'Lanterns aglow, fires are a leading cause of accidents on the last day of October. The U.S. Fire Administration reports that for each year between 2009 and 2011, an estimated 11,300 fires were reported to fire departments in the United States over a three-day period around Halloween and caused an estimated 30 deaths, 175 injuries and $96 million in property loss. One crucial light lesson is to understand the ins and outs of lights. Why? If you put "indoor" lights or decorations outside, wet weather increases the risk of electric shock and fire. The solution is to check the color-coded holographic UL mark on the light's or decoration's package. A green mark is for "Indoors Only," and a red mark is for "Indoors and Outdoors." This one decorating tip can curb severe damage.
Also, take caution during certain Halloween hours. Last year, fires occurred most frequently in the late afternoon and early evening hours, peaking during the dinner hours from 3 to 7 p.m. Some people place candles inside of pumpkins or other outdoor ornaments. Walk with care and avoid coming in contact with live flames.
Pain Prevention: Stomachaches aren't the only discomfort felt after Halloween celebrations. Moms and Dads who will be standing for hours handing out candy, walking with kids in their quest for treats, carrying heavy bags of goodies or dancing in uncomfortable costume shoes at Halloween parties, all come home fully happy yet may also be hurting. Offer Topricin as a treat! All will be wickedly surprised by Topricin's quick and effective relief for life's real boo boos.
3 Tips to scare pain way:
1. Massage Topricin Foot Therapy Cream on feet both pre-and-post neighborhood walking to prevent and reduce swollen feet.
2. Some costume materials can irritate sensitive skin. If a rash occurs, apply Topricin for Children to the affected area (it's great for children of all ages!).
3. Standing up and down and bending to give out candy can trigger back pain. Start your night and end your night by applying Topricin to the lower back area.
About Topical BioMedics, Inc.: Topical BioMedics is a research and development leader in topical natural medicines for pain relief. The company's product line includes original Topricin Pain Relief and Healing Cream, Topricin Foot Therapy Cream, and Topricin for Children. The natural formulas have been awarded a patent for the topical treatment of pain associated with fibromyalgia and neuropathy, and are safe for diabetics.
Topricin products are made in the U.S.A. and are in compliance with federal rules for homeopathic over-the-counter medicines. Topricin products are growing in popularity and are safe for diabetics and the entire family, including pregnant women. Topricin is also a lifestyle product that athletes and other active people appreciate for its ability to help with performance and recovery.
Topricin formulas contain: no parabens, petroleum or harsh chemicals, are odorless, greaseless and non-irritating, and produce no known side effects. Doctors and pharmacists can find more information about Topricin in the Physicians' Desk Reference (PDR). http://www.Topricin.com
SOURCES:
*Topical BioMedics
*Consumer Reports.Org
*We Treat Kids Better.Org
*Safe Kids.Org
*USFA.FEMA.GOV
*Children's Hospital Los Angeles
*Adult QuickCare.com
*Honest.com