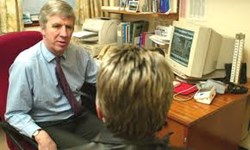 It makes little sense that people should be receiving a lower standard of care simply because they have been admitted during the course of the weekend.
Bolton, UK (PRWEB UK) 30 October 2013
According to The Telegraph, Professor Steve Field, the recently appointed chief inspector of GP's, announced that of the 600 practices inspected, 10 percent of them were below standard (1).
In an effort to raise the standard of care, and reduce the number of GP Negligence claims being filed against the NHS, 7,607 surgeries will be inspected over the next two years. Issues highlighted within this inspection have raised concerns surrounding patient safety, difficulties in accessibility, and an overall failure to treat patients sufficiently, and with dignity (1).
Speaking on the recent revelations of poor patient care, Suzanne Yates from medical negligence solicitors, Asons, said:
"GP negligence is a growing issue amongst surgeries up and down the UK. Law firms such as Asons are seeing an increase in the numbers of claims being made. Although the standard of health care across GP surgeries is generally of a high standard, the percentage of those that aren't, need to implement new regimes, stopping this level of poor care from occurring. "
"GP's are the first port of call for many people with health care issues, and it is vitally important that they can access reliable, safe treatment, that doesn't put their wellbeing in jeopardy. Operating below standard can lead to devastating results, including misdiagnosis, and delayed treatment, to name a few. The money the NHS is paying out for medical negligence compensation will never decrease, if serious changes aren't made from the grass roots first."
Alongside the other many suggestions made by Prof Steve Field, there have also been statements surrounding the need for GP's to be open seven days a week, with hopes that this will accommodate demand. The Telegraph has reported that the majority of doctors unions are against the idea, saying GP's are already over stretched without adding extra hours (1).
Ms. Yates said:
"Accessible health care is something that, in my eyes, should have been implemented a long time ago. It makes little sense that people should be receiving a lower standard of care simply because they have been admitted during the course of the weekend. Ultimately, it could save lives, and that should be the main concern."
Receiving substandard care due to negligent treatment is a form of GP negligence, with the potential to be devastating to patients and their families. Anyone that has suffered from any form of medical negligence is urged to contact a specialist solicitor, such as Asons, who can determine whether or not there is potential to file for a medical negligence claim. To find out more information visit http://www.asons.co.uk or phone 01204 521 133 to speak a member of their team.
(1) The Telegraph, One in ten GP surgeries has serious issues, 17/10/2013
http://www.telegraph.co.uk/health/healthnews/10387127/One-in-ten-GP-surgeries-has-serious-issues.html.

About Asons Solicitors:
Asons Solicitors is a Bolton-based law practice that specialises in personal injury and industrial disease claims. Founded by brothers Imran Akram and Kamran Akram, Asons Solicitors has developed to become a young and dynamic law firm that delivers practical solutions to clients in times of difficulty. Their continued focus on their staff has seen them awarded with the Investors in People "Gold Award"; which is reflected in the professional and personable approach they take in working with clients. They strive to grow and to develop, and their supportiveness and attention to detail ensures that their clients use them time and again.
For further information contact:
Email: info(at)asons(dot)co(dot)uk
Website: http://www.asons.co.uk