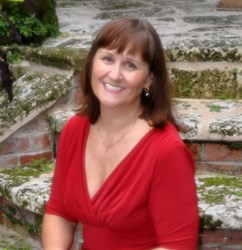 "The world will be saved by the western woman." His Holiness the Dalai Lama
Key West, FL (PRWEB) October 24, 2013
As the world held its breath about the financial issue that could again shake the global economy, Laura Bassett, writing in the Huffington Post, told the story of how "Men Got Us Into The Shutdown, Women Got Us Out." She was referring to the 6 women Senators of a 14 member committee who were instrumental in framing the debt deal that lead the US out of the government shutdown.
Senators John McCain (R-Ariz.) and Mark Pryor (D-Ark.) publicly stated that their female colleagues were owed most of the credit for driving the final agreement.
Flashback 68 years to October 24, 1945, and the formation of the United Nations. That day the UN Charter was finally ratified by China, France, the Soviet Union, the United Kingdom, the United States and representatives of 50 countries, later including Poland not represented at the Conference, all of which then became the original 51 Member States. United Nations Day has been commemorated since 1948.
The term "United Nations" was first coined by U.S. President Franklin D. Roosevelt in 1942 during WWII when representatives of 26 nations pledged their governments to continue fighting together against the Axis Powers. One need not wonder how many of them were women. World leaders, primarily male, have been coming together far longer than that to attempt some unification of humanity aboard Spaceship Earth.
As far back as 1865 representative nations have come together to cooperate on specific matters like communications by telegraph and postal mail services (now specialized agencies of the UN). There was an International Peace Conference in 1899 held at The Hague to codify rules of warfare and means for peaceful settlement of crises; the Permanent Court of Arbitration began work in 1902. The League of Nations was established in 1919 under the Treaty of Versailles "to promote international cooperation and to achieve peace and security," but ceased its activities after failing to prevent WWII.
"If, as renowned spiritual leader of Tibetan Buddhism, His Holiness the Dalai Lama, declared in 2009 at the Vancouver Peace Summit, western women will be the ones to save the world, then it's definitely time for women professionals and business leaders to become more visible and active in bringing that about," says Dolly Garlo, former health care attorney turned conscious business development advisor. She adds, "One important way of doing that is through their business operations."
Garlo suggests using the Millennium Development Goals for that purpose. Devised by the 2000 UN Millennium Declaration, world leaders committed to a deadline of 2015 to address pressing needs around the world. "These are problems that professional women can choose to tackle in their own backyards, or even globally, to make a tangible positive difference," states Garlo.
One of the elements of conscious business is to focus on all stakeholders involved or impacted by that business, including society. The Millenium Goals outline the most crucial to address – they are:
Goal 1: Eradicate Extreme Hunger and Poverty
Goal 2: Achieve Universal Primary Education
Goal 3: Promote Gender Equality and Empower Women
Goal 4: Reduce Child Mortality
Goal 5: Improve Maternal Health
Goal 6: Combat HIV/AIDS, Malaria and other diseases
Goal 7: Ensure Environmental Sustainability
Goal 8: Develop a Global Partnership for Development
Pick the one(s) most closely associated with your area of work, in a local or global community you care about. Get all your business stakeholders – staff, partners, investors and clientele – to participate in a plan to impact that goal as you define it more specifically together. Then, adopt as part of your business mission to make a positive impact in that arena, in addition to day to day delivery of products and services. As the women of the US Senate have demonstrated, it's the kind of thing women do well.
Such an approach creates multi-win results - which is the 'heart' of a conscious business - that also benefits overall business success.
Dolly Garlo, RN, JD, PCC-BCC, President of Thrive!!, founded the coaching, consulting and training company to help other professional women build solid business foundations for successful delivery of innovative services, create successful and profitable businesses, design fulfilling business-exit or career change and personal lifestyle transformations, and use their considerable skills and resources to make local or even global contributions. Her website is http://www.allthrive.com.
Working exclusively with compassionate business minded professionals, Dolly Garlo is on a continuing mission to change the way health care services are delivered in this country, particularly focused on the integrative medicine and complementary health care arenas. It has been her passion since graduating from nursing school 35 years ago and it's what drives her work to this day as a former health care attorney turned board certified professional coach and legacy development planner, with additional certification in financial coaching and retirement life planning.
She earned her BSN from the University of Michigan, and her JD from the University of Utah. She practiced as a critical care registered nurse in Medical and Shock/Trauma ICU, followed by 16 years practicing civil and administrative law (building and running her own law firm advising professionals and health care businesses). She has been consulting with women professionals since 1997. An ardent environmental advocate, she developed a comprehensive legacy planning program as a result of experiences creating the Garlo Heritage Nature Preserve.