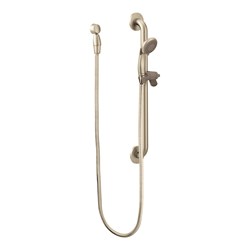 North Olmsted, Ohio (PRWEB) October 24, 2013
Cleveland Faucet Group® (CFG), a Moen Incorporated brand, has expanded its showering offerings with the new Capstone® Three-Function Handheld Showering System. This system will provide more choices to satisfy the needs of property owners and managers, and is backed by the quality and service for which CFG is known.
"By expanding our showering options, we can offer a selection that properties need… with the benefits they expect from CFG products," said Deena Cave, CFG brand manager. "In addition to cost-saving benefits, this versatile shower system can also add safety into the bath without sacrificing style."
The three-function hand shower offers two spray options – full massage or pause control – and includes a 59-inch flexible metal hose for extended reach, allowing users to take control of their showering experience. To complete the showering system, CFG provides the choice of a wall bracket or a 24-inch grab bar/slide bar, which comes with a bracket assembly and lever to allow easy height adjustments to accommodate any community resident.
To provide simple and secure installation, the grab bar option features the Moen® SecureMount™ system. Each system includes a SecureMount flange that allows the grab bar to be mounted at any angle on the wall – making it easier for installers to mount the grab bar securely into a stud for safe installation.
Additionally, the grab bars are compatible with Moen Home Care® SecureMount Anchors. The innovative D-shaped anchor makes it possible to quickly, easily and securely install a grab bar anywhere on the wall, with one stud or no studs – in less than 10 minutes. Since studs are not necessary, installers can save time, materials and labor – another way CFG's products can provide valuable savings to multi-family properties.
"Multi-family property owners are always looking for ways to manage costs," said Cave. "By saving installers' time and material costs, the new easy-to-install hand shower system can help increase property owner's net operating income, which helps reinforce CFG's total cost of ownership to the property."
The three-function hand shower is certified to meet the Environmental Protection Agency's (EPA) WaterSense® criteria and flows at a rate of 1.5 gallons per minute (gpm), offering more than 30 percent in water savings from the industry standard of 2.5 gpm. Not only is this savings significant in reducing water consumption, but it also can reduce energy costs as less hot water is used.
The CFG hand showering system is available in Chrome and PVD Brushed Nickel finishes, to coordinate with the look of any unit. It also comes with a best-in-class 10-year limited warranty for multi-family and features ADA-compliant components.
For more information about the new showering options from CFG, visit CFGonline.com or call 1-888-450-5522.
###
*For complete warranty information visit CFGonline.com
About CFG
CFG delivers real value in kitchen and bathroom faucets, showerheads and in-wall valves, with a strong foundation in design, distribution and service. CFG offers customers the confidence of working with a solid business partner committed to providing the best return on investment. For more information, visit CFGonline.com, or call 1-888-450-5522.
About Moen
As the #1 faucet brand in North America, Moen offers a diverse selection of thoughtfully designed kitchen and bath faucets, showerheads, accessories, bath safety products and kitchen sinks for residential applications – each delivering the best possible combination of meaningful innovation, useful features, on-trend styling and lasting value. In addition, Moen® Commercial offers superior performing products that deliver lower lifetime costs for today's facilities.
Moen has worked diligently to support, promote and advance sustainability within the organization and the plumbing industry. The company has been recognized with the 2011 EPA WaterSense® Excellence Award, as well as the 2010 EPA WaterSense Manufacturer Partner of the Year Award, for its work to protect the future of our nation's water supply through the introduction and ongoing support of water-efficient products, programs and practices, while keeping consumers' needs top-of-mind.
Moen is part of Fortune Brands Home & Security, Inc. (NYSE: FBHS), which creates products and services that help fulfill the dreams of homeowners and help people feel more secure. The company is a leader in the home and security industries and features well-known and trusted brands like Moen® faucets, Master Lock® padlocks and security products, MasterBrand Cabinets®, Therma-Tru® entryway systems and Simonton Windows®. For more information, please visit http://www.fbhs.com.
WaterSense is a registered trademark of U.S. Environmental Protection Agency (EPA).
Contact:
Jordan Testerman or Samantha Gasco
Falls Communications
(216) 696-0229
jtesterman(at)fallscommunications(dot)com or sgasco(at)fallscommunications(dot)com