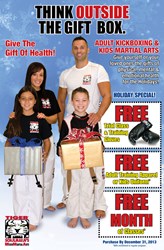 You really can bestow the gift of health upon yourself and others, whether you choose to maintain peak condition, or overcome poor physical or mental health. Tiger Schulmann's full-body workout trains the body and mind.
(PRWEB) November 13, 2013
Tiger Schulmann's, Mixed Martial Arts is kicking off the holiday season with its best offer of the year with its "Give The Gift Of Health" campaign (also known as their FREE-FREE-FREE offer). The campaign will run from November 15, until December 31, 2013.
Although Tiger Schulmann's serves every skill level, from beginner to the highest level of professional, the current campaign promotes adult kickboxing classes and kids martial arts programs for beginners.
The offer extends, all for free: A kickboxing class and pair of training gloves, either adult training apparel or kids uniform, plus a month of training in adult kickboxing or kids martial arts.
One key factor which distinguishes Tiger Schulmann's from other kickboxing workouts is the implementation of authentic kickboxing in its curriculum. "Most of the kickboxing workouts you find out there only 'imitate' kickboxing," says Alon Feder, Director of Marketing. "Tiger Schulmann's teaches authentic techniques. Not only do you get a better workout with the actual skills, you also learn to defend yourself in the real world should the need ever arise. Also, you are more susceptible to injury if you're not properly trained."
Tiger Schulmann's head instructors all have a minimum of 10 years experience training with the organization (average of 15) and are required to train weekly, directly under Master Tiger Schulmann himself. Feder says, "Most of the aerobic kickboxing classes you'll find, only require basic certification to learn an approximation of the moves then they go out and instruct. This certification is usually a few weeks of training, some of them only require a weekend of training!"
The, "Give the Gift Of Health" campaign is derived from the saying, "At least you have your health." Health is one of those things which is difficult to imagine as being a gift. The saying about health demonstrates how important it is to have it. "No matter how bad you have it, if you 'at least' have your health, you can change your circumstances," says Feder. "There is no better gift you can give to yourself, or someone else. Personally, every day, I read stories coming from our students about the incredible life changes they have made. They have overcome morbid obesity, smoking, diabetes, orthopedic challenges, spasticity, ADHD, Aspergerger's, autism, injuries, chronic fatigue... That doesn't even include the majority of the people who join to simply maintain a superior state of physical and mental fitness."
Tiger Schulmann's was founded in 1984, has 47 locations in New York, New Jersey, Connecticut, Pennsylvania and Tampa, Florida. Over 200,000 students have trained in a Tiger Schulmann's Mixed Martial Arts school.
For additional information about Tiger Schulmann's or the "Give The Gift Of Health" offer, visit:
http://www.tsk.com or call: (800) 52-TIGER.