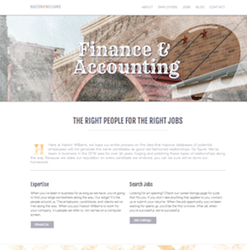 At HastonWilliams, our goal is to establish long term, strategic, collaborative partnerships with our clients and candidates
Dallas, Texas (PRWEB) October 29, 2013
Dallas recruiting firm, HastonWilliams, announced today the rebranding and launch of their new website (http://www.hastonwilliams.com). The new website showcases the value of HastonWilliams' tenure and recruiting traction within the Finance/Accounting and HR niches in the Dallas/Fort Worth markets.
HastonWilliams' rebranding and new website truly depicts their core beliefs. They are still the same people who go the extra mile, who pay attention to detail, and who are devoted to helping you in building your career. While reviewing the new website you will feel the commitment and passion that HastonWilliams exhibits for their marketplace.
HastonWilliams is now represented by three specialized divisions; Executive Search, Finance & Accounting, and Human Resources, operating under one unified message. "At HastonWilliams, our goal is to establish long term, strategic, collaborative partnerships with our clients and candidates. We are working to clarify our evolving position in the recruiting marketplace as more than just a staffing firm," said Debbie Williams, Managing Partner. "We are a full-service recruitment company so it is exciting to launch a Web site that accurately conveys those services and expertise."
HastonWilliams offers both contract services and direct hire in all three specialized divisions. The company's new website will offer information for both clients and prospective consultants and candidates in the specialized areas of Executive Search, Finance and Accounting, and HR detailing each division's area of expertise.
People are their business and HastonWilliams is committed to providing exemplary service at every turn, which is what sets HastonWilliams apart from all of their competitors.
About HastonWilliams:
HastonWilliams is an executive search and staffing firm located in Dallas, Texas. They specialize in attracting all levels of accounting, finance, and human resource professionals to companies across all industries. With over 30 years of proven experience, HastonWilliams has been recognized as being instrumental in building world-class teams.
Their search process and extensive market knowledge allow them to quickly identify talent and help their clients achieve business objectives. HastonWilliams partners with their clients to define market position, organizational structure, corporate culture and value proposition, which allows them to deliver superior search results.
With over three decades of experience and proven search methodology, HastonWilliams knows how to find and secure talent!