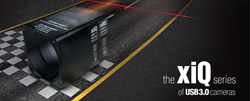 XIMEA is the only company supporting all three major software universes for their U3V camera family: Windows, Linux, and Mac OSX.
MUNSTER, GERMANY (PRWEB) October 29, 2013
XIMEA's USB3 xiQ family now ranges from VGA to 4Mpix resolution, with corresponding speeds of 500 fps and 90 fps respectively, and includes many models with extended NIR options.
The XIMEA xiQ camera family is based on the robust and field proven architecture of direct image data delivery to a computer's memory, totally avoiding any latency of intermediate frame buffers. This architecture also ensures lowest power consumption and minimum heat dissipation.
The xiQ family of USB 3.0 cameras uses the most recent revisions of the modern CMOS sensors from CMOSIS, E2V, and ON Semiconductor.
XIMEA's USB3 Vision cameras are available in both the compact 26x26x19mm -- a hard, anodized housing milled camera made of space grade aluminum alloy, as well as a globally unique single planar board version. For OEM and special vision applications, XIMEA offers customized versions of the xiQ camera family.
Highly optimized xiAPI software ensures compatibility with over 30 image processing libraries and packages, such as Cognex, ImagePro, NI LabVIEW, Matrox MIL, MVTec Halcon, and many more.
XIMEA is the only company supporting all three major software universes for their U3V camera family: Windows, Linux, and Mac OSX.
List prices for color and monochrome models of the xiQ family start at 313€. The cameras can now be ordered from XIMEA GmbH in Germany, XIMEA Corp in the U.S., and through a network of XIMEA authorized distributors around the world.
More details about the new xiQ cameras can be found on XIMEA's website:
http://www.ximea.com/en/products-news/xiq-usb3-500fps-camera-falstest
About XIMEA
For over 20 years, XIMEA has developed, manufactured, and sold standard and OEM cameras for machine vision applications for motion control, assembly, robotics, industrial inspection, and process control. XIMEA's cameras have also included scientific cameras for life science, security, and defense applications.
XIMEA's designs are high-performance, flexible camera platforms with optimized functionality and product specifications, as well as customer-selected data interfaces and API's for over 30 of the most common image processing libraries. By doing so, XIMEA provides users and developers the leverage needed to differentiate themselves from their competition.
XIMEA owns and operates engineering and manufacturing facilities, producing state-of-the-art FireWire, USB2, USB3, and smart cameras with embedded PCs, as well as OEM customized products based on years of experience working with customers that have special requirements and short lead times.
Learn more about XIMEA at http://www.ximea.com.