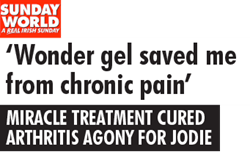 I actually have arthritis in a lot of my joints. My movement would be restricted but since I started using FLEXISEQ, I am actually walking better. I use it on my knees and on my shoulder as well.
Berlin, Germany (PRWEB UK) 25 October 2013
The International success of the breakthrough German therapy for osteoarthritis, FLEXISEQ™, was reported at a Healthcare Congress in Berlin today. FLEXISEQ is a safe*, effective and drug-free alternative in the treatment of osteoarthritis pain and joint stiffness. FLEXISEQ was reported as being nicknamed a "Wondergel" by patients and the press across the test markets in Europe. The gel contains no pharmacologically active substances, but works through the use of Sequessome™ vesicles, tiny phospholipid spheres that penetrate the skin, into the joint and lubricate the damaged cartilage. FLEXISEQ has already received the Innovation Award 2013 from the Federal Association of German Pharmacists for its innovative Sequessome Technology®.
Huge Need for a New Therapy
The President of the Hessen Rheumatism League, Dr. Wolfgang Bolten, knows the problems of patients with joint pain first-hand. "Pain therapy in particular is discussed in self-help groups", he says. "Which anti-inflammatory drug works best? Which of them has the lowest rate of side effects? What other alternatives are available? One important topic in the discussion is the long-term safety of the analgesic medication they are using. Analgesics such as paracetamol, non-steroidal anti-inflammatory drugs (NSAIDs) and opioids are the standard treatment. Reading the package leaflet or listening to patient experiences however, gives an idea of the risk some patients are taking if they have to use these medications over long periods of time."
"NSAIDs have fallen into disrepute of late. A warning about diclofenac was recently issued by the European Medicines Agency due to the risk of side effects for the elderly and for those patients already being treated for diseases of the circulatory system, kidneys or the gastro-intestinal tract. On the other hand, the elderly suffer increased pain from wear on their joints. They urgently need a safe and side effect-free treatment for their complaints. FLEXISEQ meets this need for many patients."
FLEXISEQ Improves Patients' Lives
In every country where FLEXISEQ is available, there have been reports by satisfied patients about their progress.
In Germany, Michaela R., mother of four and an active athlete, said, "FLEXISEQ has helped me a lot. I am really happy to be able to do sport again, and am happy to recommend FLEXISEQ."
In Ireland, Emer O'Hanlon said, "FLEXISEQ has given me a new lease of life. I can play golf again, as well as play the piano for the first time in years. I am thrilled I'm back playing both again."
In Ireland, 54-year-old housewife Jodie H. said, "I actually have arthritis in a lot of my joints. My movement would be restricted but since I started using FLEXISEQ, I am actually walking better. I use it on my knees and on my shoulder as well."
In Austria, Otmar S., 73, is happy he can finally go walking again. "FLEXISEQ already helped me after the second application - the pain in my joints got better. I have no real problems anymore. I have tried other things, but nothing really helped, not even tablets."
In Germany Mrs. W., 65, can now enjoy her garden again: "I felt pain in my left knee from garden work. After ten days of using FLEXISEQ, the pain noticeably decreased. The gel helps in the morning and evening; I am no longer in pain when I get up and at night I can sleep well. I have tried out many things, but FLEXISEQ has helped me!"
Research conducted by Feierabend.de reported that 97% of users stated that FLEXISEQ was better or equal to other established medicines in reducing their pain.
"Like a Cushion for Joints"
Even Toni "Twinpack" Polster, legendary footballer, uses it for his father's osteoarthritis. He knows that even footballers and other athletes are particularly affected by joint wear and tear. His father uses FLEXISEQ with great success. "My father can finally walk well again," says Polster, and he finds, "The gel suits me; it's like a cushion for my joints!"
Experts Report: FLEXISEQ Was Comprehensively Tested and Proven in the Clinic
Dr. Matthias Rother, in his speech about the clinical trial into the new gel, of which he was the co-creator, indicated that the effect of FLEXISEQ is comparable to conventional osteoarthritis medications. A comprehensive clinical programme has proven the good efficacy of the medical product FLEXISEQ. In a key comparative study with celecoxib, pain relief was already achieved after two days. The study showed that twice-daily application of FLEXISEQ leads to less pain and stiffness and better joint functioning, and this just as effectively as the twice daily intake of 100 mg celecoxib, an NSAID frequently used for chronic pain.
Dr. Werner Kneer, an orthopaedist and orthopaedic surgeon in private practice from Stockach, who also participated in the clinical trials for FLEXISEQ, submitted several case studies of patients who found relief with the innovative gel. Their night pain disappeared and joint mobility measurably increased. Prof. Dr. Egbert Johannes Seidel from the Centre for Physical and Rehabilitative Medicine at the Sophien- und Hufeland-Klinik Weimar GmbH also reported similar success. Since pain therapy is one of his specialties, he welcomes the expansion of the therapeutic options that FLEXISEQ provides.
German Success Stories
FLEXISEQ is a product of German Nanophysics Science. It was researched, developed and manufactured in Germany. Many of the excellent clinical trials were led by German physicians and involved German patients. FLEXISEQ is today exclusively manufactured in Germany. The new export markets (Turkey and Singapore launch next week) create jobs and drive royalty revenue into Germany. The new products that Sequessome™ vesicles can create are being developed in Germany. This official launch of Germany will hopefully lead to significantly more sales in Germany and yet more German jobs and taxation contribution. Despite all of this, the greatest success story is for those German patients benefiting from drug free, yet effective, pain relief from osteoarthritis. Ask your pharmacist for FLEXISEQ by name.
Some International Press Headlines
"Gel to wipe out Arthritic pain" - London Daily Express.
"Wondergel saved me from Chronic Pain" - Dublin Sunday World.
"Gel gives hope to 450,000 who suffer crippling pain of Arthritis" - Irish Independent.
"Arthritis sufferers in fight for "Wondergel" - Irish Mirror
In clinical trials, there were no health issues associated with long-term use of FLEXISEQ. Sequessome constituents that lubricate the joints are designated as GRAS (Generally Recognised As Safe) by the US FDA.