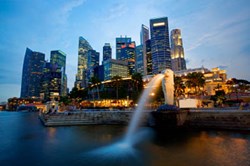 We want to help travelers pinpoint the most affordable hotels that fit any vacation style and budget
Singapore (PRWEB) October 25, 2013
When the peak travel period kicks off next month with the festive season, air fares are set to skyrocket. It is no surprise that both business and leisure travelers are looking for more ways to save their money on upcoming travel to Singapore.
BudgetHotels.sg, a hotel guide platform specializing in budget hotels in Singapore, is providing some relief by drawing up a list of ten hotels with room rates below US$100 per night. (http://www.budgethotels.sg/below100/)
The hotels are shortlisted based on pricing, followed by guests' feedbacks and amenities. Many of these hotels are also located near the city center and within walking proximity to MRT train stations.
"We want to help travelers pinpoint the most affordable hotels that fit any vacation style and budget," said Danny Lee, founder of BudgetHotels.sg. "While some travelers may feel a little shell-shocked because of increased airline fees and expenses, they can take relief that there are still cheap hotels to be found in Singapore."
Check out the ten Singapore hotels below US$100 here:
1) Big Hotel
A three-star Scandinavian-inspired hotel located in downtown Bugis district and under 10-minute walk to Bugis MRT train station. Room rates start from US$89 per night.
2) Bliss Hotel
This budget hotel is well-liked by past staying guests for its convenient location and friendly hospitality. It's a stone throw from Chinatown MRT train station and room rates start from US$90 per night.
3) Porcelain Hotel
A chic-boutique hotel in Chinatown district and short walking distance to Chinatown MRT station. Guests can rest here from US$90 per night.
4) Hotel 81 Bugis
A clean and no-frills hotel that is very popular with budget travelers for its city center location. Daily room rates start from US$90 and the Bugis MRT station is a short 10-minute walk away.
5) Venue Hotel
A unique hotel with strong colonial features in eastern part of Singapore. The nearby Paya Lebar MRT train station is within walking distance and 25-minute by train from Changi Airport. Rooms are available from US$60 per night.
6) Marrison Hotel
Located in central Bugis district, this modern hotel is popular with tourists who use it as a base to explore Singapore. The Bugis MRT station is just 5-minute walk away and rooms can be booked from US$90 per night.
7) Fort Canning Lodge
This budget hotel with spacious rooms is favored by shopaholics who prefer to stay near Orchard Road. Dhoby Ghaut MRT station is 5-minute walk away and the rooms can be booked from US$90 per night.
8) Amaris Hotel Singapore
Located in a strategic location that straddles Bugis Junction and Suntec City Convention Center, this hotel is less than 10-minute walk to Bugis MRT station and daily room rates start from US$90.
9) Santa Grand Hotel Lai Chun Yuen
The only hotel in the list with an Oriental theme and rightfully located in the cultural Chinatown district. The themed-rooms can be booked from US$80 and the Chinatown MRT station is just one block away.
10) Kam Leng Hotel
This hotel is located near historic Little India and the Mustafa Center, the only 24-hour shopping mall in Singapore. It is 15-minute walk from Lavender MRT train station and rooms are from US$80 per night.
About BudgetHotels.sg
Created specially to help budget travelers looking for cheap hotels in Singapore, BudgetHotels.sg (http://www.budgethotels.sg/) can help travelers enjoy the full sights and sound while they stay for less in Singapore. The site brings together a unique compilation of affordable hotels in Singapore with key information like the location of nearby MRT train stations, food outlets, shopping options and low-cost sightseeing tips.